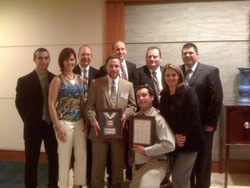 This is an honor for Fathom and reflects the strength of our company and especially our people
Cleveland, OH (PRWEB) May 26, 2010
In order for businesses to stay afloat in this uncertain economy, they need to have a competitive edge that helps them break away from the competition. Fathom SEO, a Cleveland-based search engine marketing firm, has managed to do just that. http://www.fathomseo.com
Fathom SEO has leveraged its competitive edge to add business value and garner recognition from industry leaders and community organizations. Because of Fathom's drive and its commitment to clients, the company has been named one of Crain's Leading EDGE companies for 2010.
Crain's awarded the Search Engine Marketing firm with this prestigious honor based on a unique metric which measured and tracked the business' progress and value over the last several years. Some of the things factored into the award metric were earnings before interest and tax, the total cash equivalent compensation for all of the company's employees working in the Northeast Ohio region, and the company's overall growth rate over the past three years.
"This is an honor for Fathom and reflects the strength of our company and especially our people," said Scot Lowry, President and COO of Fathom SEO. "Our growth is the result of our team that is the best in the industry and continues to deliver exceptional results to our clients."
Rated among Advertising Age magazine's Top 20 Search Engine Marketing Agencies, Fathom SEO has provided a number of innovative online marketing solutions for more than 250 clients across the country and around the globe. Fathom has worked with businesses both large and small, and has achieved a 95% renewal rate with their customers.
For more information about Crain's Leading EDGE Awards, visit http://www.edgef.org/ValueAwards.htm.
About Fathom SEO
Fathom SEO, a leading search engine marketing firm based in Cleveland, Ohio, was named one of the Top 20 Search Engine Marketing Agencies in the United States by Advertising Age magazine. Services include Multilateral Online Marketing (MOM), Search Engine Optimization, Website Video Production and Marketing, Pay-Per-Click, Banner Advertising, and Permission-Based Email Marketing.
###