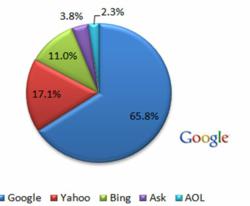 The Los Angeles based company has brought three more clients to the top of Google's search engine results through its dedicated search engine optimization efforts.
Los Angeles, CA (PRWEB) September 12, 2011
Cybertegic, Inc., an internet marketing services company based in Los Angeles, California, is constantly creating successful search engine optimization campaigns. Time and again, Cybertegic has proven its reputation as it consistently brings clients to the top ranks of major search engine's results pages. This time, wholesalers AffordableLED.com, FashionTechEyewear.com, and packaging equipment manufacturer BestPack.com climb the apex of Google's SERPs primarily through the search engine optimization efforts of Cybertegic, Inc.
AffordableLED.com, a wholesaler of digital signage, has now occupied new Top 10 positions for the keywords "led open sign", "led signs", "led sign", "electronic message board", "programmable led signs", "open signs", "led message signs", "open sign", and "led message board". For the months of April to June, AffordableLED.com also occupied the top spot for the keyword "open sign".
Another wholesaler, FashionTechEyewear.com, only started its search engine optimization efforts for a few months and has now ranked at Google's top pages. Now at the first page of Google's results for keywords "wholesale wayfarer sunglasses" while continuously climbing the ranks for other keywords such as "best selling sunglasses", "fashion designer sunglasses", and "accessories displays".
Packaging equipment manufacturer BestPack.com, a long-term and highly-satisfied client of Cybertegic, Inc. continues to place at Google's Top 10 rankings. BestPack.com ranks anew for targeted keywords "carton sealing", "carton sealer machine", "carton sealing machines", "carton erectors", "acrylic adhesive tape", "hot melt tape", "case sealers", " carton sealer", "carton sealers", and "carton sealing machine".
Cybertegic, Inc.'s search engine optimization campaigns are tailored for each client to ensure that specific needs are met. Because search engine optimization is a process that needs to be constantly learned, the Los Angeles-based internet marketing firm continues to improve its SEO efforts to create the most effective online advertising campaigns. Other services being offered by Cybertegic, Inc. includes PPC management, social media marketing, email campaigns, website development, and ecommerce services.
Join the company's newsletter or visit the search engine optimization expert's official learning blog to receive the latest internet marketing updates.
About Cybertegic, Inc.
Headquartered in City of Industry, CA, Cybertegic, Inc. is an e-commerce development company that specializes in advanced internet marketing services and in the development of complex e-commerce stores. The company specializes in all aspects of Internet marketing, such as search engine optimization (SEO) services, pay per click advertising services, and e-mail campaign services.
###