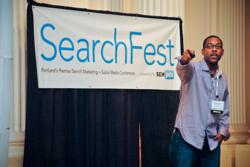 The new bonus track will offer smaller class sizes that can be personalized through highly specific Q-and-A's.
(PRWEB) January 21, 2013
Ticket prices for SearchFest will rise $45 for SEMpdx members and $80 for non-members on Friday, January 25, 2013. The seventh annual digital marketing conference in Portland is slated for Friday, February 22nd at the Governor Hotel.
SearchFest is currently the only search and social media conference organized by a nonprofit business organization (SEMpdx) in the Northwest — allowing tickets to be one-third of the cost of other conferences featuring the same caliber of speakers. Lower ticket prices paired with national experts has led to tremendous growth of the event.
With ticket sales up a dramatic 48 percent over what they were at this time last year, an expanded version of SearchFest will be able to meet an increasing demand.
"We listened to last year's attendee feedback suggesting they wanted more time to delve into topics on a deeper level," said Alan George, SearchFest Director. "The new bonus track will offer smaller class sizes that can be personalized through highly specific Q-and-A's. Professionals will get down to the heart of the matter about why they are at SearchFest."
Keynoting this year will be Duane Forrester of Bing (the search engine based in Seattle, Wash.) and Marty Weintraub of aimClear (an INC. 500-honored digital agency based in Minnesota). Additional companies represented at SearchFest include: Disney Interactive, REI, Rosetta and a variety of local, regional and national marketing firms.
The complete agenda covers a wide variety of online marketing topics, including: advanced analytics, social media strategies and analytics, advanced technical SEO, content marketing strategy, SEO for eCommerce, user experience optimization, link building, Facebook advertising, advanced pay-per-click techniques, and local/mobile strategies and tactics.
SearchFest is hosted by SEMpdx (Search Engine Marketing Professionals of Portland), a nonprofit based in Portland, Ore., dedicated to nurturing the development of the search engine and social media marketing industries in the greater Northwest. Ten percent of the proceeds from SearchFest will benefit a local charity.
SearchFest is slated for February 22nd at the Governor Hotel in Portland, Ore.
For more information, visit http://www.searchfest.org