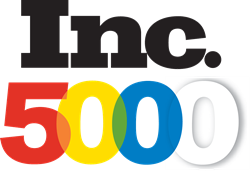 NEW ORLEANS, La. (PRWEB) August 22, 2016
Inc. magazine today included Search Influence on its 35th annual Inc. 5000, an exclusive ranking of the nation's fastest-growing private companies. The list represents the most comprehensive look at the most important segment of the economy—America's independent entrepreneurs. Companies such as Yelp, Pandora, Timberland, Dell, Domino's Pizza, LinkedIn, Zillow, and many other well-known names gained early exposure as members of the Inc. 5000.
The Inc. 5000 is a list of the fastest-growing private companies in the nation. Started in 1982, this prestigious list of the nation's most successful private companies has become the hallmark of entrepreneurial success.
"We're thrilled that what started in a spare bedroom after Hurricane Katrina has now grown into one of America's fastest-growing private companies. We love that we are based in New Orleans and are proud that Search Influence now employs almost 80 of the area's best and brightest," said Will Scott, CEO and co-founder of Search Influence.
"We hire smart, local people and train them to be expert online marketers," said Angie Scott, COO and co-founder of Search Influence. Depending on their role, new employees receive 40-60 hours of training during a 3-month onboarding process. "It is important to us that our staff understands online marketing and can offer true solutions to help grow our customers' businesses," added Angie.
For more information about Search Influence or for a listing of open job opportunities, please visit http://www.searchinfluence.com.
A national Internet marketing company based in New Orleans, Search Influence specializes in helping small businesses succeed online. Whether working directly with customers or with publisher partners, Search influence focuses on customer return on investment. Search Influence offers local SEO, social media marketing and a full range of online marketing services, including in-house production services.