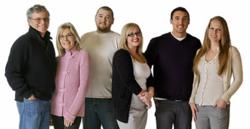 With the world of Search Engine Optimization constantly changing, continuing education through events like these are my main source of information for where the industry and the Wine Rack Store, is headed
Olympia, WA (PRWEB) May 11, 2012
On Tuesday, May 7th, Wine Rack Store Director of Communications, Heather Hoskins and Web Developer, Sidney Ray, made the two hour drive from Olympia, Washington down to Portland, Oregon to participate in a Search Engine Marketing Event.
Both Women are Members of the Portland Search Engine Marketer's Association. For this reason, Hoskins and Ray find themselves making the trip down at least once a month for various marketing events.
"These events provide more than just education on the latest in the industry," said Ray, "It also gives us the opportunity to network with other members from a variety of business and exchange knowledge."
Being a part of an association also helps the visibility of Wine Rack Store, an eCom based wine rack and custom wine cellar business that has been around for over 17 years, keep their brand fresh.
"With the world of Search Engine Optimization constantly changing, continuing education through marketing events are my main source of information for where the industry is headed," said Hoskins, "Events like these gives all of us at the Wine Rack Store the tools we need to continue to be successful."
Hoskins and Ray are scheduled to attend the next Portland Search Engine Marketing Event in August of 2012 as well as MozCon up in Seattle, Washington This July.
Owned by Michael and Denise Kitson, Wine Rack Store has been selling quality pre-made and custom built wine racks, wine cellars and wine accessories since 1995. WineRackStore.com is A+ rated from the Better Business Bureau. All products are locally crafted in Olympia, WA and are shipped free anywhere in the contiguous United States.