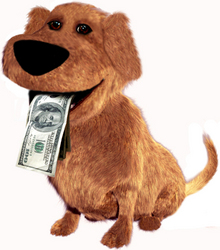 Online shopping just became a whole lot easier for virtually any product or service offered on the internet.
(PRWEB) July 13, 2010
Online shopping just became simplified with the launch of Searchmutt.com, a clean, easy to navigate fun site that saves the consumer time and money. Instead of spending endless hours researching through search engines on where one can buy the product or service they're looking for at the lowest price, they can find it instantly at Searchmutt.com. Created by renowned entrepreneurs Lars Anderson and Jim Painter, Searchmutt.com consists of a very large database of only high quality sites offering wholesale clearance prices.
How does Searchmutt.com save shoppers time and money? A team of researchers have spent countless hours discovering sites that offer the lowest prices, strongest guarantees, best customer service, highest popularity rating and established longevity. Only the best online stores are presented to the consumer in a "top 3" format for each subcategory. However, this is only one element that makes Searchmutt.com a valuable shopper's resource.
A large percentage of the population are not aware of how powerful Amazon.com is. Many hear Amazon and think "great online store for buying books." This is not the case. Consumers are able to find almost any product in the world on Amazon.com, a lot of the time at incredibly low prices. Searchmutt.com harnessed the power of Amazon and embedded an attractive Amazon search engine on the homepage. This search engine provides the consumer with images of the product, a 5 star rating system, price, and best of all you are able to view all of this while still on the Searchmutt.com home page. This feature is extremely useful for comparing prices and consumer feedback for products.
Another top feature of Searchmutt.com is the customized Google search bar. A lot of the time, when a consumer is looking to buy a product or service at wholesale prices, they do a search on a popular search engine such as Google, Yahoo, or Bing. The problem with this search is that the online shopper will encounter useless results such as definitions, articles, forums, and blogs. If the consumer is simply looking to buy, this becomes very frustrating! When an online shopper searches Google using the Searchmutt.com customized search bar they will be presented with a series of four money saving sites where they can buy that exact product or service. If the consumer is also looking for feedback and reviews, those search results are located under the top four sponsored links.
Lastly, but equally as important, is the database of specialty sites for almost any product or service. When an online store specializes in a certain product or service, often they are able to offer the same product at a lower price and present a larger selection. This is where Searchmutt.com excels and brings you the highest quality specialty sites. The consumer simply needs to locate the desired link in the database such as "wholesale accessories," if he or she is looking to buy a ring, they then click on the subcategory "wholesale rings." It's a simplified way to shop online when the consumer doesn't know the exact product they want, but only wish to browse high quality sites by category.
"Fetching you savings across the web," is the slogan. Down the road Lars Anderson plans on making the dog, whose character name is "Tode," into a full blown animated character for the public to fall in love with. To learn more about how Searchmutt.com operates, be sure to visit their "about us" page. Online shopping for wholesale accessories and more just became a whole lot easier.
###