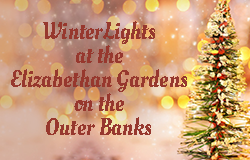 The end-of-year event at Elizabethan Gardens is one of the biggest and best holiday celebrations on the Outer Banks.
Kitty Hawk, North Carolina (PRWEB) November 14, 2013
Leading Outer Banks vacation rentals provider, Seaside Vacations, is pleased to offer a special holiday vacation package.
"More and more people are choosing the Outer Banks has a holiday vacation destination," said Kristen Constantineau, Creative Director at Seaside Vacations. "The weather in December is beautiful and off season rental rates make a holiday getaway more affordable."
Seaside Vacations' holiday package includes four tickets to WinterLights at the Elizabethan Gardens in Manteo, North Carolina, accommodations from Seaside Vacations, as well as free early check-in and check-out in one of their Outer Banks vacation rental homes.
"The end-of-year event at Elizabethan Gardens is one of the biggest and best holiday celebrations on the Outer Banks," said Constantineau. "WinterLights is a holiday display that bookends the entire holiday season, beginning the week after Thanksgiving and continuing through the New Year. No matter when you choose to visit the Outer Banks for the holidays, visitors can make plans to enjoy a quiet evening stroll surrounded by over 1 million twinkling lights among the hustle and bustle of holiday shopping, parties, and family gatherings."
To take advantage of Seaside Vacation' exclusive offer, a guest must schedule their stay in a vacation rental home offered through Seaside Vacations' vacation rental program during the period of November 30 through December 31,
2013.
Seaside Vacations accepts reservations on their website, outerbanksvacations.com as well as phone reservations at 877.892.8668.
A specific promotional code, LIGHTS13, has been established and can be used for online reservations as well as phone calls.
About Seaside Vacations:
Founded in 1990, Seaside Vacations is a family-owned and operated full-service property management and vacation home provider located on North Carolina's Outer Banks. Offering a wide variety of Outer Banks rentals from cozy condominiums to large private homes, choose from nearly 300 Outer Banks vacation rentals—each with their own special features.
To learn more about Seaside Vacations, please call 877.892.8668 to speak to a Vacation Specialist, or visit http://www.OuterBanksVacations.com to view properties, book a vacation or find out more about the Outer Banks.