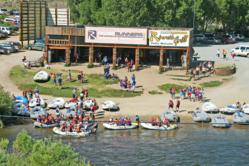 It's a fun summer job for college students or anyone else looking for a seasonal position in Colorado…You meet a lot of interesting people and there are so many outdoorsy things to do
Buena Vista, Colo. (PRWEB) March 29, 2012
River Runners, one of the largest whitewater rafting companies on the Arkansas River, announces several seasonal office job openings in Colorado for all or a portion of the 2012 whitewater rafting season, which runs May 1 – September 3 (Labor Day), 2012.
According to Eileen Peterson, general manager at River Runners, the bulk of the positions will last approximately 100 days starting mid-May and ending mid-August.
"It's a fun summer job for college students or anyone else looking for a seasonal position in Colorado," Peterson said. "You meet a lot of interesting people and there are so many outdoorsy things to do – plus employees get to go rafting for free all summer long."
Peterson said available positions include front shop check-in, phone reservations, retail sales, and social media interns. She said accepted applicants can begin work on or before Memorial Day, 2012 and will be required to work through the end of peak tourist season in mid-August.
"Each year we are pleased to see some staff return, but we always have a new round of river enthusiasts joining our team," Peterson explained. "We try to hire a diverse set of personalities in our staff to blend with the different needs of our customers."
River Runners seeks full-time and part-time applicants who have an interest in customer service and the rafting industry, but no prior rafting experience is required.
To apply, send a cover letter and resume to rafting(at)whitewater(dot)net. Please specify either Canon City, Colo. or Buena Vista, Colo. on your application. For more information about River Runners, log onto http://www.whitewater.net or call 1-800-723-8987.
River Runners will celebrate 40 years of whitewater rafting on the Arkansas River in 2012 and is one of the largest river outfitters in Colorado with nearly 25,000 annual guests. River Runners employs more than 70 seasonal workers at its Buena Vista, Colo. and Canon City, Colo. whitewater rafting offices.