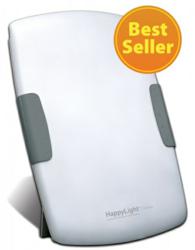 You Can Beat Seasonal Affective Disorder (SAD) Using Light Therapy.
(PRWEB) November 22, 2011
With the dark and dreary days of fall and winter here, as much as 20% of the population may be susceptible to seasonal affective disorder or SAD, also known as winter depression.
Common symptoms of SAD include depression or overeating only during the seasonal changes. Extra tiredness and unusual extended sleep often by as much as four or more hours a day during winter are other common effects.
Fortunately, one of the newest and most effective methods to treat SAD is light therapy. Exposure to more light is the best way to cure SAD but it is not necessary to go chasing after the sun to shake the blues away. Scientist developed full spectrum lamps or SAD lamps that provide up to 10,000 LUX of supplemental, full spectrum sunlight.
SAD therapy light treatment is currently the most recommended form of SAD cure because it is easy, effective and can be done anytime at home or work.
These lamps are specially designed to alter a person's "biological clock," causing the body to shift from night mode to day mode. The results are more energy for one's body, a clearer head, and a happier mood!
Sadtherapylamps.com and it's Canadian sister site Sadtherapylamps.ca carry a wide assortment of SAD lamps including popular models like the Verilux Happylight, Sunbox SAD light boxes and the Philips goLITE.
Dawn simulators or wake up lights are a great addition to light therapy sessions, especially if the user intends to get up early to do them as is recommended. Sometimes dragging oneself out of bed in the winter can be extremely difficult as the room is much darker than it would be in the summer months. A dawn simulator can help get around these obstacles. Dawn simulators basically increase the level of light in the room slowly during mornings, gently informing the body that it's time to wake up in a way that feels natural.
Sadtherapylamps.com also carries a full assortment of other light therapy products such as skincare lights, light sanitizers and full spectrum floor lamps stocked for everyone's special light health needs. Free shipping and bonuses are available for all orders.
###