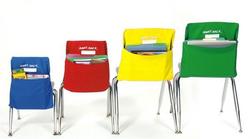 Naples, FL (PRWEB) December 16, 2008
The Original SEAT SACK™ Company, manufacturers of the poly/cotton, vinyl backed, flame-retardant SEAT SACK™ student storage pouch, introduces a palette of radiant new colors. The popular SEAT SACK™ seat pouch slides onto the back of a chair, creating an instant pocket to hold books, papers, school supplies and more. It is now available in Apple Red, Sunny Yellow, Crisp Green, Tuxedo Black and Original Blue. SEAT SACK™ was inundated with calls from parents and teachers to create this classroom organizer in an array of primary colors, according to Michelle Holder, Director of Marketing and Sales.
In addition to new colors, The Original SEAT SACK Company, which manufactures the SEAT SACK student storage pouch in Naples, Florida USA; has created a "click-through" program to make the purchase of a SEAT SACK seat pouch easier for parents. The click through program allows teachers to provide a direct link from their classroom school supply list to the SEAT SACK website so that parents may purchase the SEAT SACK for their child.
The Original SEAT SACK™ Company offers free screen printing of a school or company name on their SEAT SACK™ student chair storage covers with orders of 150 or more. The company also provides Special School District Pricing and Parent Teacher Organization Fundraisers. The SEAT SACK™ storage pouch is also made in an adult size which is perfect for conventions.
According to Ms. Holder, "Organization is the key to staying focused. When we have clutter and a disorderly environment we tend to be distracted and not focus on the task at hand. SEAT SACK™ strives to create products that will help eliminate clutter, whether in the classroom, home or office. SEAT SACK™ also focuses on making our storage organizers practical and affordable."
In addition to the SEAT SACK™, the company also produces the Handy Sack, which magnetically attaches to the side of a desk to provide storage of school supplies; the File Drawer Sack™, which slides onto the front of a file cabinet or drawer for the storage of papers; and the Locker Sack™, which provides extra shelving for books. All of these products are available at a discount for Parent Teacher Organization Fundraisers. It is the perfect way to get your school organized and raise money at the same time.
For more information on the SEAT SACK™ student storage pouch, visit http://www.SEATSACK.com.
About the Original SEAT SACK™ Company:
Founded by manufacturing company owner Ann McAlear, the Original SEAT SACK™ Company began with the creation of the first pouches for her daughter's kindergarten class, which were used to store everything from folders to art supplies. The demand grew, and eventually she sold her manufacturing company and set about working on the SEAT SACK™ full time. The SEAT SACK™ is made from a cotton and polyester blend and laminated on one side with flame-retardant coated vinyl, making for an easy-to-clean item that adds convenience and organization to any classroom, home or office.
###