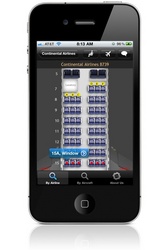 It is almost like walking through the aircraft's aisles to select the most comfortable seat
Reston, VA (PRWEB) March 15, 2011
Technology Integration Services Inc., a leading developer of innovative travel solutions and mobile applications, has released Seat Authority, an iPhone application that "reinvents" airline seat maps. This application enables air travelers to look up prior to booking or prior to check-in, features that are critical for seating comfort.
Air travelers can find legroom, seat width, recline for each seat and the location of bulkhead and bassinet rows for aircraft seating configurations for most major US airlines. In addition, the availability of amenities such as in-seat power and in-seat video is also provided. "It is almost like walking through the aircraft's aisles to select the most comfortable seat," said Sunil Punnoose, the CEO of Technology Integration Services Inc.
The unmatched photo-realism of the airline seating charts combined with exceptional seat detail gives business and leisure travelers yet another tool to ensure a comfortable flight.
The SeatAuthority iPhone app features:

Over 125+ exquisite and high quality airline seat maps
Includes seat maps for most major US airlines
Get realistic views of seats in every class
Easily locate exit rows, bulkhead, bassinet seats and restrooms
Use it prior to booking or after booking
Easily locate amenities available for each seat
Compare seat pitch, width and recline for different classes
Compare seating configurations for different airlines
Color coded icons to show limited recline
Optimized for Apple's Retina display devices
Works even without a network connection (Airplane mode)
For more information on the Seat Authority iPhone app, please visit SeatAuthority.com.
About Technology Integration Services Inc.
Technology Integration Services Inc. is an innovative IT services company focused on providing solutions for the aviation, financial services and transportation markets. Core competencies include enterprise software services consulting, 3D Visualization, Staff Augmentation and Technology Training services. In addition, TIS Inc. owns and operates FlightArrivals.com, a website that offers the most comprehensive near real-time flight information. All the 3D assets developed for the Seat Authority and FlightArrivals.com products are part of a suite of 3D Visualization and Simulation services that is offered to customers in the Architectural, Transportation and Advertising markets. Please visit TIS3D.com for more information.
# # #