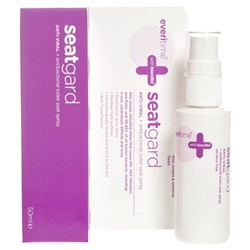 'The perfect way to protect your posterior in the powder room, SeatGard™ - the revolutionary personal toilet seat spray - has just been launched on-line in the UK', says Peter Nowell, Marketing Director at Everitime.
Salisbury (PRWEB UK) 16 October 2013
Recent research commissioned by Everitime™, the makers of SeatGard™, a new antiviral toilet seat spray – suggests many would rather 'hover', than come into contact with a public toilet seat! Of the 2087 people questioned by YouGov, 54% of women said that they had previously chosen to 'hover', rather than risk 'catching something' when using a public toilet seat.
28% of women have covered the seat with paper before sitting down, and over half of adults - men and women (51%) – told us that they had wiped the seat before use, with only 10% saying they don't take any sort of precaution at all when using public toilets.
The findings come at a time of year when we start to think more about protecting ourselves from viruses and germs – doing our best to avoid colds, flu, and other assorted bugs.
'We spent 7 years developing an antiviral & antibacterial formula that is gentle on the skin, yet powerful enough to kill viruses like Herpes and HIV, and bacteria such as E-Coli and C Difficile', says Peter Nowell, Marketing Director of the Everitime brand.
'When people use a public convenience, not only do they want an effective antiviral hand wash – like HandGard™ - for use afterwards, but they'd like the same level of protection whilst using the facility too.'
'Whether the introduction of SeatGard™ will change the way the Great British public answer the call of nature remains to be seen, but for the majority, the craft of hovering could well become a thing of the past!'
SeatGard™ is available in 15ml and 50ml sprays - small enough to be carried in a pocket or a handbag, yet powerful enough to keep the bugs at bay.
Contact: For further information please contact Peter Nowell, on 07974 926 243. p.nowell(at)biocillin(dot)co(dot)uk
Photographs: Photographs of the Biocillin range of products are available here:
For further evidence of Everitime Antiviral performance, including individual product sheets, please click here:
Notes to Editors
All figures, unless otherwise stated, are from YouGov Plc. Total sample size was 2,087 adults. Fieldwork was undertaken between 30th July - 1st August. The survey was carried out online. The figures have been weighted and are representative of all UK adults (aged 18+).
SeatGard is one of 6 Everitime™ antiviral and antibacterial topical skin products developed for everyday use.
The Everitime™ range is the world's first range of anti-viral personal care products. Developed to provide families with even better protection from germs, the Everitime™ range includes body washes, hand washes, shaving gels, foot sprays and even an antiviral spray for toilet seats!
The secret to the antiviral properties of the Everitime™ range is Biocillin™ - a unique formulation that is added to each Everitime™ product. Developed over a 7 year period, Biocillin™ is an odourless biocide that is kind to the skin, yet has the power to kill most contact viruses, including HSV (Herpes) and Polio. In addition, Biocillin™ has also been proven to kill over 99.99% of known bacteria, including e-coli, clostridium difficile and MRSA.
Biocillin Therapeutics limited is a British company, headquartered in Salisbury.
For further information contact:
Peter Nowell
07974 926243
p.nowell(at)biocillin(dot)co(dot)uk