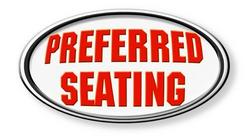 We are very excited about partnering with Ohio Seating and Windsor Manufacturing
(PRWEB) February 19, 2009
In an agreement that will create much-needed American manufacturing jobs, Preferred Seating Designs, LLC, has entered into partnerships with Ohio Seating Corporation and Windsor Manufacturing Corporation to create new types of high-quality theater and stadium seats. The first two seating designs will focus on upscale theatre venues and megachurches.
Preferred Seating Designs will handle the marketing and design build portion, with the two partners handling the manufacturing.
"We are very excited about partnering with Ohio Seating and Windsor Manufacturing," said Frank Sumner, spokesman for Preferred Seating Designs. "The partnership was formed to create theater and stadium seating, but a large byproduct of it is this will create American manufacturing jobs at a time when the country needs it."
The partnership has begun with two new auditorium seats. The Summit seat has an ergonomic, upscale design, while the Encore seat is designed for 'megachurches' with more leg room and back-to-back spacing. Both are compliant with the American Disabilities Act.
Fixed theatre seating designs in Europe vary from U.S. styles which are more traditional. Many upscale designs, such as Ohio Seating's new Summit auditorium seat, retain strength, comfort and durability with ergonomic styles using the most advanced building materials.
Venues that require upscale state of the art seat designs are performing art centers and specialized task oriented seating areas. Traditional seating venues usually include cinemas, school auditoriums, lecture halls and service areas. Courthouses regularly require fixed individual type seating as well as arena and larger spectator areas.
The new Encore auditorium seat manufactured by Ohio Seating is meeting the need for seating with a tighter envelop to afford more leg room and back to back spacing. Fold up compact theater seats allow more space for increased traffic flow through the aisles and increase seating capacity. With the growth of megachurches comes the need for church seating like the Encore seat that has a true auditorium look and feel and still reflects the solemnity of the church service.
These two theater seats, in addition to future seat designs, will create more U.S manufacturing jobs, which is in growing demand. Due to outsourcing and importation of auditorium and stadium seats from countries where labor and materials are less expensive, America's loss of manufacturing has weakened the U.S. economy and created massive unemployment. As a result, while standards of living have increased as third world countries become more industrialized, they have fallen in developed countries. To reverse this trend, Preferred Seating is growing the business in the U.S., creating jobs and contributing to the U.S. economy.
Abusive labor practices and lack of concern for the environment is more prevalent in countries that do not have environmental and workforce safety regulations. The U.S. government and American citizens are financially supporting these environmental and human rights abuses by purchasing products manufactured in these countries.
For additional information on the news that is the subject of this release contact Frank Sumner or visit http://www.preferred-seating.com.
About Preferred Seating Design, LLC
Preferred Seating Designs, LLC specializes in the complete design build of athletic facilities and other large public assembly seating venues. Tiered seating occurs on more than one elevation in the same structure and includes grandstands, bleachers, telescoping and folding seating. From small movable aluminum benches to giant grandstands that cannot be moved, bleachers have flexibility unlike any spectator seating.
Indoor gyms can have telescopic bleachers and or retractable platforms which are semi-automatic chair operation systems. The ease of the set up and take down features of this seating greatly decreases the time it takes to change a multipurpose facility from full seating to a full floor space.
Preferred Seating Designs LLC of Louisville Kentucky is a complete design build and marketing organization consisting of President, Richard Barrios of Louisville, Kentucky, and Vice President Frank Sumner, of Preferred Seating Co Inc, Indianapolis, Indiana. Richard Barrios is recognized as a leading bleacher seating designer and does regular work with most of the major U.S. bleacher manufacturers to design, stamp and approve these type projects. Preferred Seating Designs LLC, design builds, layouts and installs theater seating, bleachers, arena seating and church seating. Twelve seasoned professional representative groups with over 20 years of experience market these products throughout the U.S and Canada.
###