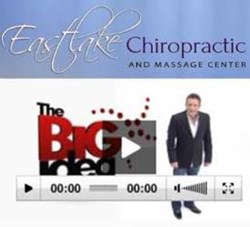 What The Big Idea video describes is more than just the absence of symptoms—it's a state of optimal health.
Seattle, WA (PRWEB) June 25, 2013
Seattle chiropractors Dr. Lincoln Kamell and Dr. Calvin Mulanax at Eastlake Chiropractic and Massage Center understand that many people have questions about chiropractic care and the role that it can play in helping them get and stay healthy. They also know from experience that there's often a wide gap between what people think they know and the latest scientific evidence and clinical research. That's why Dr. Kamell and Dr. Mulanax have added a wide variety of educational videos to the practice's website, starting with a headline video called "The Big Idea" that appears on the homepage. Dr. Kamell explains, "What we love about The Big Idea video is that it explains why chiropractic care is so important for the health of the entire body, not just for headache, neck pain and low back pain relief. It is entertaining and has great graphics to clearly illustrate how the spine and nervous system thrive with chiropractic care and suffer without it. We also added a host of other condition-specific videos so patients can educate themselves on their particular condition. Each video is short, to the point and is backed by current research."
Why video? According to Dr. Mulanax, the answer's simple. "If a picture is worth a thousand words, then a video must be worth ten million. Our motto, 'get well, stay well', has been and will continue to be the focus and center of care for each and every patient. What The Big Idea video describes is more than just the absence of symptoms—it's a state of optimal health."
Feedback about the Center's growing collection of videos has been overwhelmingly positive. In particular, patients appreciate that the videos are produced with them in mind:
"I found the video on The Big Idea very interesting. To be honest, I thought it was going to be some dry scientific stuff, but I was surprised to get an entertaining lesson in anatomy that even I could understand. And in only 10 minutes. I have allergies, which is not what I came to the chiropractor for, but I discovered from the video that the pain in my neck could be related. It's added a whole new dimension to my chiropractic treatment. Now I feel like I can be a real participant in my care. Thanks, Dr. Calvin."
"I liked the video. I kept finding myself saying, 'Wow, I didn't know that.' The spine and the nervous system, of course they're related. But now, I really get the connection with my spine and how I'm feeling and not just the pain in my low back."
What's next in the evolution of the website's collection of educational resources? Dr. Kamell sees the Video Library as a work in progress. "We will be updating these videos regularly and also pairing them with research articles for those who really want to jump into the literature."
About the Eastlake Chiropractic and Massage Center
Eastlake Chiropractic and Massage Center has been serving the Eastlake, Downtown, University and Capitol Hill communities since 1990 and has helped thousands of patients recover from back pain, neck pain, headaches, sciatica, migraines and many other ailments.
Eastlake Chiropractic and Massage Center
2722 Eastlake Avenue East #360
Seattle, WA 98102
(206) 324-8600
http://eastlakechiro.com
Follow Eastlake Chiropractic and Massage on Facebook.