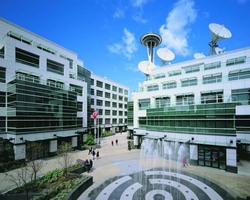 In addition to attaining our Microsoft Gold Certified Partner status, Adhost has been working closely with Microsoft on our Windows Server 2008 and IIS7 hosting service
Seattle, WA (PRWEB) February 1, 2008
Adhost Internet, a leading provider of Seattle colocation and web hosting in downtown Seattle, announced that it has achieved Microsoft Gold Certified Partner status in the Microsoft Partner Program. The Gold Certified partner designation validates Adhost's expertise with Microsoft technologies and their ability to meet clients' demands for Microsoft hosting solutions.
"We have been proud to be a Microsoft Certified Partner for three years and our goal this year was to move up to the Gold level," said Will Riffle, President and CEO of Adhost. "Achieving this goal confirms Adhost's expertise with Microsoft's server technology and our reputation as a reliable colocation and web host provider here in the Seattle area."
Each certified partner must demonstrate competency in one of Microsoft's solutions, and Adhost attained two competencies in Advanced Infrastructure Solutions and Networking Infrastructure Solutions. The Advanced Infrastructure Solutions is designed for technology partners specializing in high-availability, complex infrastructure solutions. Adhost's area of specialization for this competency is Hosting. The Networking Infrastructure Solutions is designed for technology partners who have proven their proficiency in implementing solutions based on the Microsoft Windows Server or Windows Small Business Server platforms.
"In addition to attaining our Microsoft Gold Certified Partner status, Adhost has been working closely with Microsoft on our Windows Server 2008 and IIS7 hosting service," said Kurt Widmann, Adhost Sales Manager. "We have already deployed our first dedicated server clients using Windows Server 2008 and are offering free beta hosting on our Windows Server 2008 with IIS7 server farm."
Adhost also participates in Microsoft's Service Provider Licensing Agreement (SPLA) program. As a Microsoft partner, Adhost has access to Microsoft products and related information to help support their customers and also receives customized product training and exclusive customer offers.
To learn more about Adhost's Microsoft hosting and dedicated server offerings, visit Microsoft Windows Server 2008 with IIS7 hosting or contact the Adhost Sales department at 1-888-234-6781.
ABOUT ADHOST
Adhost Internet is a one-stop Web services provider, delivering complete server colocation along with cutting-edge Web design, customer-friendly e-commerce tools and round-the-clock security and tech support. Everyday, Adhost's skilled server administrators and Web developers help Seattle-area companies make the most of the Internet--something they've done for over a decade. Whether it's a small or medium-sized business or a big name like Boeing, the Seattle Space Needle or Tully's Coffee, Adhost delivers Web site solutions that work. Find out more at http://www.adhost.com.
# # #