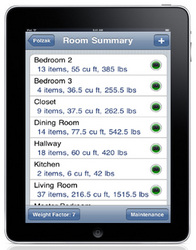 We've incorporated new technology to improve our customers' experience from start to finish
Everett, WA (Vocus) November 4, 2010
Air Van Moving, a Seattle moving company, with facilities throughout the Northwestern region of the United States, has started leveraging Apple's iPad and other new technologies to improve its booking, household goods estimation, and quoting process.
"We've incorporated new technology to improve our customers' experience from start to finish," explained Vu Doan, Vice President of Shared Services and IT Services, Air Van Moving. "For instance, customers may now contact us anytime, 24/7 to schedule an in-home estimate or start the booking process."
By leveraging a highly-trained team of call center representatives, Air Van is able to give prospective customers access to an in-home estimate scheduling team seven days a week, 24-hours a day. The call center representatives are also available to answer any questions about the moving process.
"Not only have we made contacting us easier, we're leveraging Apple's iPad to help improve the experience and accuracy of the estimation process," said Doan. "Now, when estimating household goods in a customer's home, we're able to use our iPad estimation application to calculate estimates more effectively, review costs with the customer, e-mail the estimate, and even show the customer a video about our company…all on-site."
Before the iPad, Air Van—like many moving companies today—would conduct an in-home estimate of household goods with a cube sheet (a piece of paper) and a pen. The agent would then take the cube sheet back to the office to input the data into estimating software in order to generate a moving quote. The customer would typically receive the moving quote 2-3 days after the in-home estimate date.
Now, Air Van's moving agents are able to utilize the iPad's touch-screen technology to enter the household goods into the estimating application, which will calculate a real-time estimate for the customer. The new technology offers Air Van the opportunity to answer customer questions or even offer interactive information about the moving company during the in-home estimate appointment.
"By incorporating this new technology into our process, we have significantly raised the bar on customer service in the moving industry," said Doan. "We have rolled the iPad technology out to our corporate headquarters and plan to have all offices utilizing the technology by the end of the year."
About Air Van Moving
For over 50 years Air Van Moving has continually proven itself as a leader in the moving and storage industry. Air Van Moving is a Seattle moving company based out of the Northwestern region of the United States with locations in Washington, Oregon, Idaho and Alaska. Our global network partner North American Van Lines Inc., allows our reach to extend across the country and around the world. For families and businesses alike, if you're moving across the street or across the ocean there's no job too big or too small for our team of highly trained moving professionals. Information on the company can be found on the Internet at http://www.airvanmoving.com
# # #