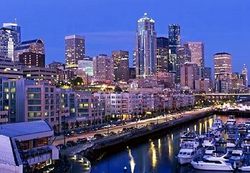 Seattle, WA (PRWEB) March 21, 2010
The Seattle Marriott Waterfront is welcoming Seattle Symphony ticketholders this season. As one of the top Seattle luxury hotels, the downtown luxury hotel features plush guestrooms with private balconies and breathtaking views of Mt. Rainier, Elliott Bay and the Olympic Mountain range. The hotel is a popular option for symphony fans visiting the Emerald city, and it expects to continue to host large numbers of people through symphony season, which ends in July.
Each year, the Seattle symphony attracts more than 315,000 music lovers from all over the United States who come to hear music by favorite twentieth century composers, as well as by more obscure composers. Gerard Schwarz, who has been the Music Director of the Grammy-nominated orchestra since 1985, is celebrating 25 years of artistic excellence and leadership of the symphony this year.
When symphony guests choose the Seattle Marriott Waterfront, they have the added benefit of being just steps away from the famous Pike Place Market, right across from the Seattle Cruise Terminal (Pier 66), and only minutes to major downtown attractions and shopping. The Seattle hotel's deals include the Insider's Tour of Pike's Place Market, which is a favorite of tourists and locals. The market is within walking distance of the Seattle Marriott Waterfront and is one of the most popular attractions in Seattle. Another deal gives guests a Visa® gift card of up to $50 when they stay over the weekend. The gift card can be used anywhere Visa® is accepted.
Due to the popularity of the Seattle Symphony, ticketholders are encouraged to book their accommodations early. To reserve a room at the Seattle Marriott Waterfront, visit Marriott.com.
About the Seattle Marriott Waterfront
The Seattle Waterfront Marriott is known for its stunning views, luxurious guestrooms and close proximity to area attractions. Guests can look out at Elliott Bay and the Olympic Mountains while relaxing in their elegantly appointed guestrooms. Travelers can also go out and see the sights of Seattle. The Seattle Marriott Waterfront is close to Pike's Place Market, the Space Needle and other top area attractions.
###