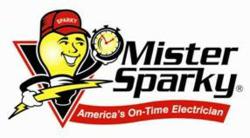 When we saw these statistics, we were alarmed
Seattle, WA (PRWEB) July 28, 2011
According to a study by the nation's independent insurance agents, electrical home fires result in 900 deaths in our country each year and $1.7 billion in property damage. More than 18 million American homeowners never even check for electrical problems that could potentially save their lives.
"When we saw these statistics, we were alarmed," shared Seattle electrician David Lind, owner of Mister Sparky Seattle. "We felt compelled to provide some simple steps that everyone can do to make their home and their family more safe." You can catch an electrical problem before it becomes serious by performing the following electrical safety checklist:
1. Check outlets that have loose-fitting plugs that could overheat and catch fire.
2. Put safety covers on all unused outlets that are accessible to small children.
3. Walk around the house and touch all outlet plates. If any of them are hot to the touch or discolored, there may be a dangerous heat buildup at the connections.
4. Never remove the third prong, the ground pin, to make it fit into a two-conductor outlet. This could lead to an electrical shock.
5. Don't overload your outlets. Unplug unnecessary items.
6. Extension cords should only be used on a temporary basis. They are not intended to be permanent household wiring.
7. Only use light bulbs that are the recommended wattage and make sure they are screwed in securely as loose bulbs can overheat.
8. Change your smoke alarm batteries two times a year.
To find out more about how Mister Sparky can help you with all of your electrical needs, please call 206-246-7123 or log on to http://www.mistersparkyofseattle.com.
Home of the Big Red Trucks™, Mister Sparky is a full-service Seattle electrician. They employ some of the industry's leading certified electricians and service professionals endorsed and certified by the U-WIN® seal of approval to ensure you always get the best and most prompt service – 100% satisfaction guaranteed. We're on time, you'll see, or the repair is free®!
###