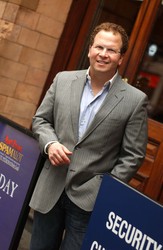 If I bought tickets for a live event, I should have the right to sell them
London, UK (PRWEB) February 21, 2008
Live music fans across the UK today spoke out against the 'fan tax' proposed by the Resale Rights Society, that would require fans to pay a levy for tickets resold and bought online through the secondary ticket market. The 'fan tax' is supported by the Culture, Media and Sport Select Committee who, in its recent inquiry into ticketed touting, labelled the initiative as the 'middle way' encouraging all involved to take it seriously.
However, in an online poll conducted on Seatwave, the UK's largest fan-to-fan ticket exchange, 88 per cent of live music fans said they would not be willing to pay an additional fee to the artist, event promoter or venue if they bought tickets in the secondary market. The voice of the fans has largely been ignored during much of the recent debate on the issue and Seatwave's poll marks the first time fans have publicly voiced their opinion.
Joe Cohen, CEO and founder of Seatwave, commented on the survey results:
"The fans have spoken and it's clear they don't agree with a surcharge on ticket resale. They see the levy proposed by the RRS simply as an unfair tax. We urge the Government to listen to fans many of whom double as voters. They are clearly telling the Government to reject this proposal and put it to bed once and for all when they respond to the Select Committee report next month.'
Earlier this year a YouGov poll, commissioned by Seatwave, revealed that three times more fans want to be able to resell tickets they bought for live events than don't with nearly three quarters of 'event fanatics' (those who bought tickets for live events more than 10 times a year) against the idea of not being able to resell or return tickets for live events. (see footnotes)
Thousands of people every week use legitimate internet sites like Seatwave to sell their tickets direct to fellow fans in a safe and secure environment.
About Seatwave
Seatwave is the UK's largest fan-to-fan ticket exchange, an online marketplace for buying and selling tickets for theatre, sports, music and other live events. The company was launched in February 2007 by Joe Cohen, ex Ticketmaster and ex match.com and early stage Venture Capital firm, Atlas Venture. Seatwave has more than 500,000 tickets on sale at any one time, 25 times more than eBay.
Seatwave guarantees that tickets come only from legitimate sources and will represent them accurately and honestly. Seatwave operates two types of customer protection. TicketintegrityTM guarantees that buyers will receive the tickets they ordered and in good time for the event. If not Seatwave refunds 150% of what was paid. All tickets bought on Seatwave are also covered by TicketcoverTM. This provides for a full refund if an event is cancelled and even covers buyers for a range of circumstances that may prevent them from attending their performance. The company is based in London.
Footnotes
In response to the question "If I bought tickets for a live event, I should have the right to sell them", 57% either Strongly agreed or agreed vs. 19% who either Strongly disagree or Disagree.
73% of fans who attended concerts the most (more than 10 times a year) either strongly disagreed or disagreed with the statement: Tickets should only be used by the person who originally bought them, and never resold or returned if they can't make it to the concert.
###