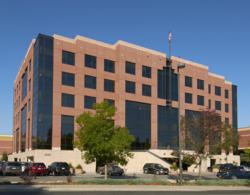 The Centura portfolio is an excellent opportunity for Seavest to build on its strategy of owning medical office properties on well-performing hospital campuses for leading healthcare systems.
White Plains, N.Y., and Denver (PRWEB) January 06, 2012
Seavest Healthcare Properties, a White Plains-based healthcare real estate investment firm, and Fleisher Smyth Brokaw, a Denver-based real estate owner and property manager, have acquired a portfolio of five on-campus medical office buildings (MOBs) in Denver and Littleton, Colo., for $41.25 million. All of the properties are on campuses operated by Centura Health, Colorado's largest hospital network.
The portfolio includes three MOBs on Centura's 368-bed Porter Adventist Hospital campus at 2525 S. Downing St. in Denver and two medical office buildings at its 231-bed Littleton Adventist Hospital campus at 7700 S. Broadway in Littleton for a total of 317,026 square feet.
"The Centura portfolio is an excellent opportunity for Seavest to build on its strategy of owning medical office properties on well-performing hospital campuses for leading healthcare systems," says Jonathan L. Winer, Executive Vice President of Seavest Healthcare Properties. "We plan to implement significant capital improvements in both the aesthetics and building systems that will enhance the value of the properties and provide for a better tenant and patient experience."
The transaction, which closed Dec. 21, includes these multi-tenant properties:
Building, Address, Square Feet
Porter Medical Plaza, 2535 S. Downing St., Denver, 76,098
Harvard Park East MOB, 950 E. Harvard Ave., Denver, 80,543
Harvard Park West MOB, 850 E. Harvard Ave., Denver, 70,394
Arapahoe Medical Park Plaza, 7720 S. Broadway, Littleton, 63,331
Arapahoe Medical Park Plaza II, 7750 S. Broadway, Littleton, 26,660
The MOBs were acquired by a partnership of Seavest's investment fund, Seavest Properties III, and an affiliate of FSB. FSB will also serve as the property manager and leasing agent.
"This acquisition is an ideal fit for FSB's long-term medical office investment strategy," says Michelle Brokaw, CEO of FSB. "We expect to improve operations and ensure that these facilities continue to serve the residents of Denver and Littleton and the surrounding communities at the highest level."
"We believe this is the perfect time to transfer these important assets to an organization with proven capabilities in the ownership of on-campus medical office buildings," says Randy Haffner, CEO of Centura Health's Porter Hospital. "The sale enables Centura to dedicate further resources to deliver on our mission of providing quality, accessible and affordable care for the people in our communities."
More than 100 tenants, including hospital clinical services and independent physician groups, are housed in the five buildings, which have a current total occupancy of 88 percent. The two hospitals occupy a total of 28 percent. Porter Adventist Hospital was established in 1930 and Littleton Adventist Hospital has been serving Denver's south metropolitan market since 1989.
Chris Bodnar and Lee Asher with the CBRE Healthcare Capital Markets Group represented Centura Health in the transaction.
About Seavest Healthcare Properties LLC
Established in 1981, Seavest is a real estate investment management firm strategically focused on medical office buildings and other healthcare real estate. A pioneer in this sector, Seavest made its first healthcare real estate investments in the mid-1980s. Today, through its dedicated healthcare real estate funds, the firm owns over two million square feet of medical office properties located throughout 14 states. For more information, please visit http://www.seavesthcp.com.
About Fleisher Smyth Brokaw LLC
FSB has been a privately-owned real estate investment leader in the Denver/Boulder Metropolitan Area for more than 20 years primarily focusing on the ownership and management of medical office buildings. Headquartered in Denver, Colo., FSB is a full service real estate firm specializing in the acquisition, development, asset management and property management of medical office, office and retail properties. The firm has owned and/or developed more than 40 properties, collectively representing more than two million square feet of commercial real estate. For additional information, visit http://www.fsbrei.com.
About Centura Health
Formed in 1996 by Catholic Health Initiatives and Adventist Health System, Centura Health is Colorado's largest hospital and health care network and operates 13 hospitals, seven senior living facilities and 11 ambulatory surgery centers for a total of 1,845 licensed beds across the network. Combined with its hospital partnerships, mountain clinics, diagnostic imaging centers, home care and hospice services, the Centura Health Physician Group and other joint ventures, Centura provides an integrated, far-reaching network of care that spans the entire state and is united in a single mission. Centura's 14,500 associates and 6,000 physician partners are dedicated to delivering the highest quality, advanced care to more than half a million people each year. For more information, please visit http://www.centura.org.
###