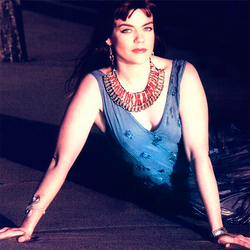 If you had but one voice, then it should be Seay. She will leave an impression on your mind and your spirit, and it will be a blessing.
Los Angeles, CA (PRWEB) February 24, 2010
A Winter Blessing, by Nashville-based, award-winning recording artist, composer and vocalist Seay, was chosen as one of esteemed music critic Michael Debbage's "Top 30" albums of the decade 2000-2010, joining albums by chart-topping New Age musicians such as Secret Garden, David Arkenstone, Mars Lasar, David Lanz, Yanni and more. Debbage, whose reviews range from Rock to Contemporary Instrumental music, is a leading music critic who has written for many webzines, including New Age-focused sites such as Wind & Wire, Solo Piano Publications and Mainly Piano.
Speaking from her Franklin, TN-based Tuscan Sun Studios by phone, Seay (pronounced "say") explains her delight at receiving the honor, saying "I was shocked and humbled to be included in such an amazing list. There were many artists in that list I've respected over the years, like 2002, Secret Garden and Christian artist Michael W. Smith. "Migration" by Peter Kater and Carlos Nakai is one of my all time favorite New Age Albums, so just to be in the same category with all of these musicians was a huge surprise!"
In an interview with Seay for MainlyPiano.com, Debbage accurately encapsulates the artists wide-ranging talents, writing "The most notable attribute of Seay was the 'sea' of Seay voices, at times over 84 layers of vocal arrangements…However, her talents are not just limited to her vocal capability, as Seay is very gifted as a composer, pianist and producer, making her a very valuable commodity in the sometimes cold and calculated musical business."
Indeed, it is a testament to Seay's blossoming talent that she makes this esteemed Top 30 list with the album A Winter Blessing, which is only her second independent release via her Tuscan Sun Records label. Her emotive fusion of music is drawing listeners from across the globe. A Winter Blessing achieved A Holiday Top 4 ranking and was a New Age Reporter (NAR) LifeStyle Music Awards Nominee for Best Seasonal Album.
However, the NAR charts were already familiar territory to Seay, after her debut album, 1 Voice, held the #7 spot on NAR chart for several months in 2005, finishing at #19 in the Top 100 Albums for the year. A single off that album, "Love Is the Ocean" earned a Best New Age Song Nomination from NAR in 2006. Respected NAR reviewer RJ Lannan named 1 Voice as one of the top ten releases of 2005. Of Seay's work, he has said, "If you had but one voice, then it should be Seay. She will leave an impression on your mind and your spirit, and it will be a blessing."
Encouraged by 1 Voice's success and inspired by a strong personal drive to create healing music, Seay embarked on the production of A Winter Blessing. While Seay's signature multi-layered vocals grace the album, she also produced it with a collective of impressive guest instrumentalists such as Pat Thomi (Gino Vanelli, Jean Luc Ponty), Jerry Watts Jr. (Herbie Hancock, Peter Cetera), Geoff Stradling (Quincy Jones), Jules Delgado (Bob James), Scott W. Hallgren (Sir Elton John, Aaron Neville), and John Billings (Wynonna).
Producing was a natural for Seay, as she had learned from watching top-notch producers at work early in her career as a vocalist. Raised in a musical family, she enjoyed years of vocal training while growing up, finally being "discovered" as a young adult living in London. She honed her vocals singing on records and special projects for Motown, Warner Chappell, Carlin, as well as producers and recording artists like Annie Lennox, Mick Ronson, Julia Taylor Stanley, and Elaine Paige.
However illustrious those pop/rock influences, Seay seems to have found her true home in the arena of New Age/World music. Perhaps her early travels to faraway lands with her unique artistic/military family built a respectful sensitivity to other cultures and their arts and music. Further to that, a variety of personal experiences focused her wish to uplift others through her music.
She explains, "I think there is an intention with all music really...for me, if it's a song, meditational piece, or a musical composition, my intention has always been to comfort, inspire, heal, and uplift. When a good friend suffered a brainstem stroke, it really prompted me to refocus my creativity towards the healing power of music."
That experience, coupled with an inspiring creative workshop by "The Mozart Effect" guru Don Campbell, encouraged Seay's delivery of 1 Voice. Shortly thereafter, Seay pledged her support to Project Peace on Earth (PPOE), which is producing a worldwide peace concert staged from Manger Square, Bethlehem, Palestine, in September 2010. The event -- supported by world leaders from the Hollywood, Political and Healing communities including James Cameron and Caroline Myss -- will use the power of global music to launch a new era of peace and financial sustainability for those in need around the world. SEAY's inspiring song "All Around the World" will be included in the project's 2010 'Music Of The Spheres' concert.
PPOE founder Steve Robertson confirms that "Seay is one of the great voices singing 'Music Of The Spheres.' Just listen to 'All Around the World' and you will see."
Currently, the song's uplifting music video is featured on the Project Peace on Earth website. Seay explains the synchronicity of the projects, saying "When I wrote 'All Around the World' from A Winter Blessing, I knew I was writing a song, an invocation, for peace and world unity. For the video, it made sense to create visuals that celebrated those things that joined all people and the world's cultures into one. We're all human beings first, before the labels of race, religion, color, et cetera, so that's what we tried to convey in the video: an invocation of peace celebrating those common ties that join us, such as love, compassion, and worship."
As a producer, Seay seems to have that special knack for knowing when the time is right for a vision to come to life. A Winter Blessing was joined by several other "winter-season" albums in the span of a couple years, including Enya's "And Winter Came," Sting's "If On A Winter 's Night," and Yo Yo Ma's, "Songs of Joy and Peace."
"I'm very influenced by the seasons and by the elements. After writing 'Whispering Pines,' I began thinking about an album that would capture that special time of year when there seems to be a joining of people, cultures, family…it's a very sacred time on the earth."
A Winter Blessing and 1 Voice are available for purchase at book-and-music stores, specialty stores, and online; Burnside Distribution and New Leaf Distributing are on board to service retail store accounts.
For performance availability and updates, contact Seay's manager Jules Delgado, Angelica Arts & Entertainment, Franklin, TN; he is reachable by email via mgmt(at)angelica(dot)org or 615.794.0485.
Track list for A Winter Blessing:
All Around the World 3:46
Snowfall 3:55
Carol the Bells 3:41
A Christmas Heart 4:47
Winterlight 5:08
In the Bleak Midwinter 3:11
Whispering Pines 3:08
All Around the World (A Seasonal Greeting) 3:55
Official Artist website: http://www.seayonline.com
Myspace: http://www.myspace.com/seaytuscansun
Facebook: http://www.facebook.com/pages/SEAY/44297483859
Youtube: http://www.youtube.com/seayonline
Twitter: http://twitter.com/sirenseay
###