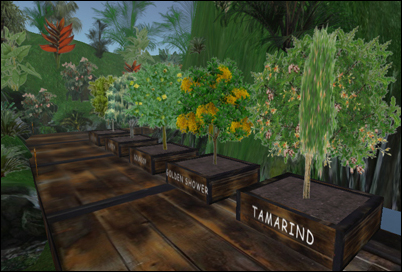 New York, NY (PRWEB) April 11, 2007
In an innovative environmental initiative that bridges the virtual and real worlds, Converseon and Plant-It 2020 today unveiled the "Second Life Second Chance Tree Project." The project allows socially conscious individuals in a virtual world to make a difference in the physical world through the reforestation of environmentally sensitive regions.
For the price of 300 lindens (roughly equivalent to US $1), visitors to Second Life can purchase and plant one of 10 species of trees on a designated island in the virtual community. The planting of a tree in Second Life will trigger Plant-It 2020, a non-profit organization founded by the late singer John Denver, to plant the same species of tree in the endangered rainforest to which it is indigenous. The virtual island is accessible online at: Second Chance Trees.
"Our Second Chance Tree Project is an innovative way to allow individuals to immersively participate in a reforestation initiative by connecting their virtual world to a real world action," said Rob Key, CEO of Converseon, a leading social media communications agency.
"Social media environments, like Second Life, can be powerful environments to encourage this type of socially responsible collaboration in a more meaningful way," added Michael Thau, executive director, Plant-It 2020. Key added: "In a social media environment, it is critical for organizations seeking acceptance to first provide something of intrinsic value to the community, instead of pushing a commercial agenda. Who hasn't seen the community backlash against blatant marketers in these worlds?"
The Second Chance Tree Project is centered on an island designed to replicate real rainforest fauna and wildlife. Visitors to the island can learn about the planet's endangered rainforests while exploring hidden caves, riding along the river, and participating in multi-media educational information about the dangerous of deforestation.
Among the ten species of trees featured in the Second Chance Tree Project are the Tamarind, Pink Shower, Soursop tree, and Neem tree. Each virtual tree purchased and planted will be matched with a real tree planted in needed regions including Costa Rico, Brazil and other endangered rainforest environments.
Various events will be held on the island, and within Second Life and other social media environments, to support the initiative.
About Converseon
Founded in 2001, Converseon is a leading social media communications company designed to help organizations "join the conversation" to meet communications objectives.
Plant-It 2020
Plant-It 2020 is a 501 (c)(3) nonprofit foundation dedicated to properly planting, maintaining and protecting as many indigenous trees as possible worldwide.
Second Life
With more than 2 million residents, Second Life is a 3D online world with a rapidly growing population from 100 countries around the globe, in which the Residents themselves create and build the world which includes homes, vehicles, nightclubs, stores, landscapes, clothing, and games.
# # #