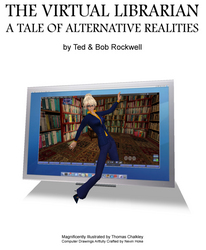 Where better to find readers for a book about a virtual librarian than in a virtual community of over ten million people?
Washington, DC (PRWEB) December 5, 2007
"The Virtual Librarian," the latest novel by award-winning author Dr. Theodore Rockwell, speculated on the possibilities of virtual reality librarians when it was first drafted over 10 years ago. Now, the author is turning to the same tool - the concept of a 3D virtual community - for spreading awareness about his newest title.
The 85-year old author first penned the manuscript that would become "The Virtual Librarian" over 10 years ago after a series of lively and visionary discussions with his son Bob about the unrealized potentialities of virtual reality. When his son suddenly and unexpectedly died in 1998, the manuscript was shelved and remained so until late last year, when Dr. Rockwell decided to share his virtual reality vision of yesterday with the very living virtual world of today.
The new book will first appear in Second Life, a virtual world where millions of global residents use "avatars" to buy and sell virtual real estate, build virtual houses and businesses, raise virtual pets, pay off (sometimes real) mortgages, and engage in virtual and real love affairs, among other things. The author - in avatar form - will be on hand throughout the month of December to discuss the new book at various book events and readings in Second Life.
Thematically, "The Virtual Librarian" is a distinct departure from the author's award-winning non-fiction releases, including "The Rickover Effect" and "Creating the New World." Though the title character is virtual, she is by no means an avatar: Rockwell's virtual librarian is purely software "most like the voice in your GPS navigator, or the automated software that tells you that your plane is running late," according to the author.
In addition, author Rockwell's marketing strategy is quite different from his previous books: this book will be advertised solely, at first, inside a virtual world. Dr. Rockwell is collaborating with Second Life marketing agency Moderne Interactive for a host of live events, including a book launch event in Second Life on December 8th, 2007 on the agency's popular Activ8 Island Resort.
Second Life was a natural fit for the book launch. Dr. Rockwell states simply: "Where better to find readers for a book about a virtual librarian than in a virtual community of over ten million people?"
For more information about "The Virtual Librarian" book launch in Second Life, please visit http://www.activ8sl.com. For more information about The Virtual Librarian and book-related queries, please contact Dr. Theodore Rockwell directly.
About Moderne Interactive -- Moderne Interactive is a digital, web 2.0 and virtual worlds agency with its roots in the real world. As an operating unit of Moderne Communications, the interactive shop's focus is on leveraging web technologies and virtual worlds, including Second Life, for maximum ROI online and off. All of Moderne's digital programs, including online branded experiences, social media solutions and campaign microsites, integrate effectively with real world strategies to produce powerful results. These fully integrated brand experiences are the key to creating lasting impressions and relationships with discerning consumers of the 21st century. For more information, please see: http://www.ModerneCommunications.com/interactive
# # #