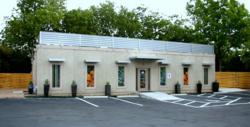 Service is our main priority no matter the budget. You can have the most beautiful flowers and designs in the world, but you need great service to back it up
Austin, TX (PRWEB) June 27, 2013
King Florist, a local flower shop in Austin Texas is celebrating the 2 Year Anniversary at their permanent location in Central Austin. The local shop has been a go to source for flowers in Austin since 1927, and with the shop at their permanent location on Koenig Lane, the store is excited for more and more Austinites to discover the fresh, contemporary space. Benoit Ballon, the owner and creative director at King Florist said; "We really wanted to create a space that breeds creativity.
The store is very open, bright, and is always full of beautiful fresh flowers and plants." When walking into the store, it doesn't feel like your average flower shop. "We have people walk in that think we only create flowers for large events, we even had one client walk in who thought he had wandered into a boutique hotel lobby!" The local shop actually caters to clients with any need and budget. Whether you need a single rose, (go for a dozen wrapped for a mere $18.00) a Birthday or Anniversary bouquet, or flowers for a full-scale wedding or event, the King Florist team is happy to help. Ballon said; "Service is our main priority no matter the budget. You can have the most beautiful flowers and designs in the world, but you need great service to back it up."
King Florist will celebrate the 2 Year Anniversary with a "Free Delivery Friday" for VIP clients and special prices on wrapped flowers to go. You can view their fresh flower and plant collections at, http://www.kingflorist.com or call the team: 512-453-6633
King Florist is a local flower shop in Austin, TX. Proudly serving clients since 1927. Their focus is premium floral product from all over the world, quality design from a world-class design team and stellar customer service to each and every client.