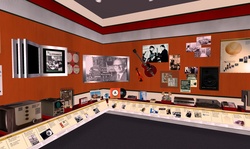 The result is a real geek-fest
PHOENIX (PRWEB) February 25, 2008
Avnet is the sole early adopter on Second Life among its technology distribution industry peers. The company sees business potential in the virtual world concept, and citing innovation as one of its five core values, has ventured in-world to explore the possibilities of new ways to engage with customers.
Avnet joins several other well-known companies in the electronics arena whose products it distributes and who have opted for a virtual presence on Second Life, including AMD and Microsoft. Avnet partner Cisco has a virtual campus in Second Life as well.
In the real world, Avnet built a technology museum at its corporate headquarters in Phoenix, Ariz., to commemorate the Roaring 20s origins of Charles Avnet's radio parts business in New York City and showcase the artifacts that created the explosive growth of the electronics industry that followed after radio became television and then computer, cell phone and digital music player.
As traffic in the real-world museum is somewhat limited, the museum's curator, Avnet's Director of Multimedia Services, Bryan Carter, suggested an experiment with recreating the museum experience, down to the minutest detail, in the virtual world to bring it to more people, or avatars, as they're called in Second Life. "The result is a real geek-fest," according to Carter. "Visitors to Avnet's space in Second Life tell us they're fascinated with the in-world freebies on our giveaway table, with the ability to zoom in on objects in the museum and with the speedboat trips they can make around the Avnet island."
Highly interactive, the Avnet Second Life experience gives in-world visitors the opportunity to talk to the receptionist, an artificial intelligence greeter named Samantha, and also to ask for more information about Avnet, inquire about job openings and find out who the trading partners are that Avnet works with in the real world.
Carter says one of the recent visitors went giddy when he experienced the virtual recreation of the Leak Amplifier in the museum. "I had one of these!" the nostalgic visitor noted on his guest comment card.
"Resources allocated to Second Life are considered R&D investments, since the platform is new and many of the sales, marketing and training possibilities it offers haven't even been thought of yet," said Jan Jurcy, Avnet's vice president of digital communications. "We look at this as another piece of the social media revolution. In fact, all of the buzz we've created so far with Avnet's presence on Second Life has come from word of mouth among visitors. Wow. We've come full circle in the communications arena - all the way back to people simply telling other people. Well, ok, they're probably telling each other via their BlackBerrys."
To visit Avnet on Second Life, search for "Avnet" on the map found within the Second Life application, or access by direct link, which will launch the Second Life client if users already have it installed. The direct link is: http://slurl.com/secondlife/Avnet/150/154/39
About Avnet
With more than 300 locations serving customers in 73 countries worldwide, Avnet (NYSE: AVT) markets, distributes and adds value to the products of the world's leading electronic component suppliers, enterprise computer manufacturers and embedded subsystem providers. Additionally, Avnet brings a breadth and depth of service capabilities, such as supply-chain optimization, logistics solutions, product assembly, device programming, computer system integration and engineering design assistance. For the fiscal year ended June 30, 2007, Avnet generated revenue of $15.68 billion. Visit http://www.avnet.com/
BlackBerry is a trademark of Research In Motion Limited. All other trademarks appearing in this document are registered trademarks of their respective holders.