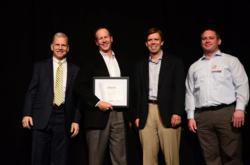 We are proud to be a two-time recipient of this award. Our goal is always 100% total customer satisfaction.
Lanham, MD (PRWEB) April 03, 2012
Thompson Creek Window Company, the mid-Atlantic's leading home improvement replacement products company, today announced it has been honored among the eight winners of the Replacement Contractor Service Excellence award, for the second consecutive year. The Remodeling Service Excellence Award was created in partnership with GuildQuality, a customer-service research company. The award recognizes home improvement companies for excellent customer service and is determined by Guild Quality polling of past customers. Four awards were given to companies with under $10 million in revenue and four to companies with revenue in excess of $10 million. The honorees were recognized at the Replacement Contractor Executive Conference awards dinner in Las Vegas on February 24, 2012.
Methodology
GuildQuality randomly sampled 50 recent client surveys from nominated companies, asking homeowners to rate their contractors on different aspects of the service interaction. The survey firm also asked homeowners to indicate whether or not they'd recommend the company to those they knew, or hire the company to work for them again. Selection of the winners involved having homeowners rate companies on service aspects such as communication, sales process, and product quality; identify any areas where company personnel fell short; and indicate whether or not they'd recommend the company to others. Winners were selected on the basis of overall scores, recommendation rate, and response rate to surveys.
"Today, when just about any homeowner reads a company's online reviews before picking up the phone, it's critical to leave behind a customer who's happy, even thrilled, with the work done and the experience of having it done," says Jim Cory, Editor, REPLACEMENT CONTRACTOR.
Thompson Creek Window Company's president, Rick Wuest, said, "We are proud to be a two-time recipient of this award. Our goal is always 100% total customer satisfaction. We eliminate the many complaints that arise with contractors selling third-party windows by manufacturing the windows ourselves to cut out the middleman. We are completely accountable to our customers – from start to project completion, all backed by our transferable double-lifetime guarantee."
About Thompson Creek
Thompson Creek Window Company is a privately owned and family-operated manufacturer and installer of energy-efficient home improvement replacement products. Founded in 1980, Thompson Creek began as a manufacturer of energy-efficient, maintenance-free vinyl windows. Since that time, Thompson Creek has evolved into one of the leading specialty home improvement contracting companies in the nation. The company's product mix includes replacement windows and doors, vinyl siding and a clog-free gutter system. Thompson Creek is headquartered in Lanham, MD with an 80,000 square-foot manufacturing facility in Landover, MD.
About REPLACEMENT CONTRACTOR
REPLACEMENT CONTRACTOR is dedicated to exterior specialty contractors in the roofing, siding, window & door, and decking categories of the home improvement industry. Published by Hanley Wood, Replacement Contractor provides high-volume exterior contractors with sales and marketing advice, as well as tips to refine the day-to-day operation of their businesses.