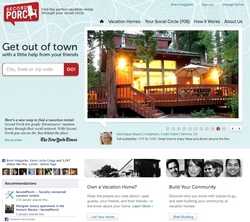 The vacation rental industry started out 40 years ago as primarily a word-of-mouth channel, and now we can augment word-of-mouth with the massive adoption of social networking and do some very exciting new things.
Portland, OR (PRWEB) November 12, 2010
Second Porch, the social vacation rental marketplace today announces that its CEO and co-founder Brent Hieggelke will appear this weekend on the national broadcast of "The Travel Show with Pauline and Arthur Frommer" which airs on more than 130 radio stations, including WOR 710AM in New York. Second Porch was chosen as a topic for the interview based on its recent innovation and release of the travel industry's first social search and discovery capabilities located at http://www.secondporch.com.
The broadcast will also be available as a podcast on Monday November 15, 2010 here: http://www.wor710.com/pages/8379275.php
Now with Second Porch, travelers can search and discover vacation homes that they are connected to through people in their social circle, through their Facebook friends who either own, or have rented, rated or reviewed a vacation rental home. Travelers can then view photos and read a description about the home, read the home's Social Guestbook, and send inquiries about booking the home. In addition, travelers may also discover that they have access to certain homes which are private rentals, only available to friends, and friends of friends, of the owner.
This new "word-of-mouth" social search and discovery capability makes it safer and easier for travelers to find the perfect vacation rental home since it highlights homes that have been vouched for by someone they know and can access for more information. " The vacation rental industry started out 40 years ago as primarily a word-of-mouth channel, when friends heard about beach homes and mountain cabins that their friends, or friends of friends owned or had rented. Word-of-mouth has always been the easiest way to find a trustworthy vacation rental and now that social networks like Facebook have reached an enormous size and scale, we have the ability to start showing people homes that have been vouched for by people they know," said Brent Hieggelke, CEO and co-founder of Second Porch.
Owners of second homes now have a new range of options when they consider renting out their second homes using Second Porch. They can list their home and limit its visibility to friends only, to friends of friends, or display it to the general public. Owners can also list their homes for trade as well, enabling them to exchange homes with other second homeowners for no additional expense. The site is tightly integrated with Facebook, requiring owners, property managers and travelers to have a Facebook account in order to bring transparency and access to the "faces behind the places."
About Second Porch Inc.
Second Porch is the social vacation home marketplace, where travelers can discover the perfect vacation rental through their trusted social circle, when friends, or friends of friends have rented, rated, or reviewed, or own a participating vacation home. Second Porch enables vacation rental property managers and homeowners to add a powerful word-of-mouth marketing channel to their marketing mix with its highly-rated Facebook application at http://apps.facebook.com/secondporch/ as well its standalone social marketplace at http://www.secondporch.com
###