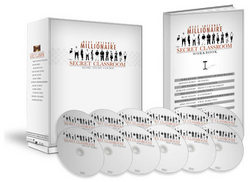 It is not unusual to see people paying upwards of $5000 to attend a live Internet marketing training
Loveland, CO (PRWEB) December 5, 2007
New York Times Best-Selling Author Joel Comm today announced the world premier of The Secret Classroom, a 12 DVD Internet marketing home study course that features over 22 hours of teaching and instruction from a dozen Internet millionaires.
Filmed on the set of Comm's groundbreaking reality show, "The Next Internet Millionaire," The Secret Classroom is a comprehensive Internet business course that provides detailed strategies and techniques for building a successful online business.
The twelve contestants on The Next Internet Millionaire were privileged to receive the world's best Internet marketing education from online legends such as Mark Joyner, Marlon Sanders, Armand Morin, Jeff Walker, Brad Fallon, Rich Schefren, Perry Marshall, Mike Koenigs, Mike Filsaime, Dave Taylor, Kristopher Jones and Ray Edwards. Each of these experts, and millionaires in their own right, shared their best revenue-generating information with the contestants in a top-secret atmosphere.
This 12-day event was so exclusive that it was by invitation only to a handful of people. Now, the complete course is available for purchase at SecretClassroom.com.
"The Internet has provided an opportunity for many people to make thousands of dollars online each month. Some have crossed the five, six or seven-figure threshold in annual income and have quit their jobs as a result" says Joel Comm, creator of The Secret Classroom home study course. "With The Secret Classroom, anyone can discover how to become a success story on the Internet and have the financial freedom they desire. From product creation and ecommerce to copywriting and the lastest Web 2.0 traffic strategies, The Secret Classroom is destined to become the definitive Internet marketing education course!"
As a result of the information provided in The Secret Classroom, two of the contestants on The Next Internet Millionaire have each already grossed over $50,000 in revenue from products sold, proving that the information within is valuable and life-changing.
"It is not unusual to see people paying upwards of $5000 to attend a live Internet marketing training," says Comm. "The Secret Classroom is an affordable alternative for those who would rather learn how to make money online from the comfort of their own home. Nowhere else can you find a more comprehensive Internet business education for under $1000."
The Secret Classroom course comes with a specially-designed workbook and additional bonuses, including a DVD box set of Season One of The Next Internet Millionaire, as well as a certificate for a free 30-minute personal Internet business strategy session with a member of Joel Comm's team.
Joel Comm is a 12-year Internet entrepeneur with a number of successful ventures under his belt. He has sold a site to Yahoo!, written a New York Times Best Seller (The AdSense Code - 2006, Morgan James Publishing) and was the Host and Executive Producer of the world's first competitive reality show, The Next Internet Millionaire.
The Secret Classroom is a joint venture between InfoMedia, Inc. and Eric Holmlund of Northern, Colorado. For more information, visit http://www.SecretClassroom.com or call 970-278-0011.
###