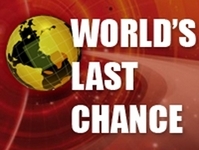 To make sure you haven't unknowingly drunk from Satan's wine you will not want to miss out on this video
Cairo, Egypt (PRWEB) January 8, 2008
God's sees the Secret Rapture as Satan's most successful pacifier to unknowingly sedate believers down the elephantine track to hell. In a 7-minute Youtube video, World's Last Chance unabashedly betrays why the Left Behind Series is the devil's lethal concoction to everlasting fire.
The video exposes how, to produce their ludicrous fallacy of earth's last-day event, the authors Tim LaHaye and Jerry Jenkins twist the Bible verses entirely out of context. The ministry believes that the series is more in line with science-fiction than doctrinal Bible prophecy.
"The Secret Rapture was virtually unheard of before the nineteenth century. Then Satan began to sing this seductively sweet lullaby to sedate us into a false security that we can live as we please as there is a second chance, says Dahlia Doss of World's Last Chance. "But God foreseeing the future left no room for confusion. God's word is as clear as spring water that the Second Coming of Christ will be a universal event, visible and audible by all."
The Left Behind | Myth video exposes how that the Bible teaches that the destiny of every soul will be eternally determined before the second coming of Christ and not after. Through God's word, the video aggressively attacks the seven-year fallacy revealing who this prophecy pointed to and how it has been fulfilled.
World's Last Chance believes the Secret Rapture upheld by many believers and promulgated through the phenomenally best-selling Left Behind Series is a poisonous doctrine to imbibe. "To make sure you haven't unknowingly drunk from Satan's wine you will not want to miss out on this video," concludes Doss.
About World's Last Chance
World's Last Chance is an online Christian ministry that produces the most -- viewed, controversial and translated -- end-time Bible prophetic videos on the web. The website upholds sharp, provoking teachings which no one has been able to prove wrong from the Bible.
The ministry is operated by non-denominational volunteers who believe the second coming of Christ to be only a few years away and are dedicated to sharing God's last warning of mercy with the world before Christ comes.
The ministry is dedicated to those who are discontent with the watered-down truths preached nowadays, and are thirsting for the undiluted word of God and a hefty serving of His bread of life.
###