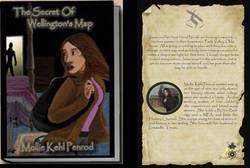 Lewisville, TX (PRWEB) August 26, 2008
Mollie Kehl Penrod announces the launch of her action adventure novel, 'The Secret of Wellington's Map', for children ages 10-14 years. Adam L. Penrod created the map around which the story evolves and around which the author's Web site is designed. His talent is also displayed in the stylish cover design and engaging chapter illustrations.
"I started writing at the age of nine, crafting stories, poems and even a 'History to Hand Down to My Children's Children's Children.' Basically I love to tell stories, either things that really happened or ones I make up. That is why people love books. Books are like holding an unknown world in your hand. It doesn't matter if it is fiction or non-fiction - a book either offers you information you didn't know or an adventure you haven't experienced," said Author Mollie Kehl Penrod.
In 'The Secret of Wellington's Map', Jaime and her best friend Nicole are looking forward to a carefree summer in their hometown, Pauls Valley, Oklahoma. All is going according to plan until they discover a strange, ancient map, and suddenly their relaxing vacation becomes a desperate fight for their lives. Though danger lurks around every corner, Jaime is up for the adventure, but is set to discover more about herself and her past than she may be able to handle.
For more information on this exciting new book, check out the Web site at http://www.secretofwellingtonsmap.com.
###