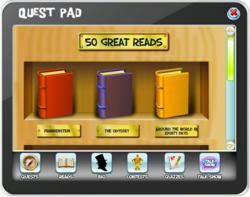 It is wonderful to have the support of Oxford University Press and NOOK by Barnes & Noble in "50 Great Reads Before 15", our mission to help kids catch the reading bug early and often.
San Mateo, CA (PRWEB) June 20, 2012
SecretBuilders, a developer of mobile and social web games for children based on literature, has partnered with Oxford University Press to "gamify" the greatest classics as mobile and social apps for kids.
The SecretBuilders' "50 Great Reads Before 15" initiative will gamify such classics as Alice in Wonderland, Macbeth, Arabian Nights, Pride & Prejudice, and Don Quixote as mobile and social games.
"When it comes to mobile or social games, the only choices for kids are either chocolate fudge or chocolate-covered broccoli! We want to create games that are strawberries – experiences that are both delicious and nutritious," said Bob Brattesani, Chief Creative Officer at SecretBuilders.
On the web front, stories and characters from great reads are gamified into the SecretBuilders gameworld with a community of 7 million users. Each week a new classic is spotlighted, and the virtual talk shows, parties, quests, items, avatars, and contests that week reflect its story and characters. Oxford University Press has sponsored the "The Bookworms Club", a virtual land within SecretBuilders that will host all activities and items related to "50 Great Reads Before 15". Oxford University Press is also collaborating with SecretBuilders to create a treasury of mobile games based on the classics.
"Oxford University Press values this opportunity to extend our educational mission through gamifying the learning experience and motivating learners to improve their English reading skills," said Laura Pearson, General Manager of Oxford's American English Language Teaching Group.
On the mobile front, each month, SecretBuilders will be releasing mobile games based on great books onto NOOK® by Barnes & Noble, iTunes, GooglePlay, Kindle, Blackberry AppWorld and other app stores. NOOK will highlight some of these gamified books as featured apps in its store. The first mobile game to be released on NOOK is "The Alice in Wonderland Difference Game", which takes players through the beloved classic via a challenging spot-the-difference game.
"Gamifying classics is very synergistic with our mission," said Claudia Romanini Backus, Director, Developer Relations at Barnes & Noble. "We are delighted to support '50 Great Reads Before 15' by featuring select book-themed games in our NOOK Store™. We are sure our community of book lovers will approve."
"It is wonderful to have the support of Oxford University Press and NOOK by Barnes & Noble in "50 Great Reads Before 15", our mission to help kids catch the reading bug early and often", said Umair Khan, Chief Executive Officer of SecretBuilders. "Our book-themed games on tablets and smart phones will ensure that a child's literary journey starts before the first page and does not end on the last page."
About SecretBuilders
SecretBuilders makes mobile and social games that are both engaging and enriching for children on all screens. SecretBuilders has raised over $5 million to date from The Entrepreneurs' Fund, Launch Capital, and angel investors including Scott Hassan (co-founder eGroups, founding team member of Google), Carlos Cashman (CEO ConstellationCK, former CEO CourseAdvisor), Greg Titus (The Washington Post Company) Michael Tanne (former CEO of Adforce), John Welch (VP News Corp, former CEO, Playfirst), and several other angel investors. The company is headquartered in San Mateo, CA.
About Oxford University Press
Oxford University Press is a department of the University of Oxford. It furthers the University's objective of excellence in research, scholarship, and education by publishing worldwide. OUP is the world's largest university press, with a wide global reach. It currently publishes more than 6,000 new publications a year, has a presence in over fifty countries, and employs more than 5,000 people worldwide. It has become familiar to millions through a diverse publishing program that includes scholarly works in all academic disciplines, bibles, music, school and college textbooks, children's books, materials for teaching English language learners, business books, dictionaries and reference books, and academic journals.
To find out about OUP's English Language Teaching publications please visit http://www.oup.com/elt.