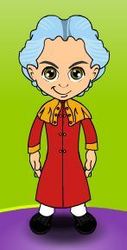 This Thanksgiving, parents and children enjoyed "The Magic Flute" and then continued their musical discovery and enjoyment online in the virtual world of SecretBuilders and at sfopera.com/fluteresources.
San Mateo, Calif. (PRWEB) December 1, 2009
SecretBuilders, a virtual world that immerses children in the creative arts, and San Francisco Opera, the second largest opera company in North America, have joined hands to bring Mozart, classical music, and opera to young adults.
Starting Thanksgiving Weekend, children get to meet and chat with Mozart in "Mellow Drama", the virtual amphitheater inside SecretBuilders. They are also be able to enter the "Art for Mozart" Contest where they design a poster for Mozart's "The Magic Flute" while enjoying audio and video clips of the opera, provided by San Francisco Opera. Contest winners will receive a variety of prizes including tickets to an opera.
"SecretBuilders is a world where children live, learn, and play among the concepts and characters from the arts, sciences, and humanities," said Bob Brattesani, VP of Creative Design, at SecretBuilders. "Our contests draw tens of thousands of young writers and artists every month. Thanks to our partnership with San Francisco Opera, Mozart's "The Magic Flute" will now be heard by kids across 50 states, hundreds of schools, and 110 countries."
David Gockley, General Director of San Francisco Opera, whose virtual avatar will be alongside Mozart welcoming kids to the online contest, is also enthusiastic about this partnership: "We are proud to be among the very first opera houses to make a foray into the virtual world for the sake of extending music appreciation across age, socio-economic, and geographic boundaries. Plus, I am looking forward to rubbing shoulders with Mozart, even if only virtually."
The contest launch was coincident with San Francisco Opera Education's special Thanksgiving weekend screenings of "Mozart's Magic Flute for Families – The Movie!" at the Herbst Theatre on November 27th and 29th.
"We are delighted to attract the next generation of music fans to the Opera," said Ruth Nott, Director of Education at San Francisco Opera. "This Thanksgiving, parents and children enjoyed "The Magic Flute" and then continued their musical discovery and enjoyment online in the virtual world of SecretBuilders and at sfopera.com/fluteresources."
The "Art for Mozart" Contest is also supported by other SecretBuilders' partners, including KidZui, Art in Action, and Stone Soup Magazine.
"We are grateful to San Francisco Opera, and our other partners for making the Magic Flute Art contest on SecretBuilders a reality", said Umair Khan, CEO of SecretBuilders. "Their support is essential to our mission of bringing role models from the Arts and Humanities into the lives of all children."
About SecretBuilders
SecretBuilders is a virtual world with an emphasis on creativity and historical adventure for children 6 to 14 years old. Children live and play among fictional and historical characters and learn concepts from the arts and humanities. Children go on quests with Galileo, King Lear, and others, get published in the online magazine, see famous art work in Frank 'n' Stein's Gallery, order slimy treats at the Weird Brew Café (run by the Weird sisters from Macbeth), chit chat with Mozart or Confucius, visit Shakespeare's home, or collect dinosaur bones and ancient coins. Children build out this virtual world with their own ideas and activities and participate in a virtual goods economy offering everything from pet dragons to flying carpets. SecretBuilders is funded by The Entrepreneurs Fund III, an early stage venture fund, and prominent angel investors from Silicon Valley and the East Coast. The company is headquartered in San Mateo, Calif. For more information, visit http://www.secretbuilders.com.
About San Francisco Opera
San Francisco Opera is the second largest opera company in North America. Heralded for its first-rate productions and roster of international opera stars, the Company presents approximately seventy-five performances of ten operas between September and July in the historic War Memorial Opera House. David Gockley became San Francisco Opera's sixth general director in January 2006 and acclaimed Italian conductor Nicola Luisotti began his inaugural season as the Company's third music director in September 2009. Under Gockley's leadership, the Company created the Koret-Taube Media Suite, the first high-definition broadcast-standard video production facility installed in an American opera house; instituted OperaVision, video screens providing balcony audiences a better view of the stage; inaugurated the Grand Opera Cinema Series; and returned San Francisco Opera broadcasts to the national and international radio airwaves. The Company also began a series of free live opera simulcasts and has presented seven simulcasts to date, most recently Verdi's Il Trovatore at AT&T Park for 25,000 fans in September 2009. San Francisco Opera offers a comprehensive array of prestigious training programs for young artists under the auspices of the San Francisco Opera Center and the Merola Opera Program, both led by renowned soprano Sheri Greenawald. In February 2008, San Francisco Opera created a new Education Department to expand upon the San Francisco Opera Guild's long-standing and acclaimed education and community partnership programs. San Francisco Opera and San Francisco Opera Guild's education programs currently reach over 60,000 young people throughout Northern California. For more information, visit http://www.sfopera.com.
Press contact
Sandra Clifford
Community Outreach Director
http://www.secretbuilders.com
###