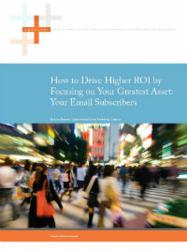 If you address attrition, optimize engagement and consistently feed your list with new, quality subscribers, your future in email will be bright.
Rochester, New York (PRWEB) September 27, 2011
Most marketers are so focused on getting the next email out the door that they don't take the time to give their subscribers the attention they deserve. With a little time and analysis, your subscriber and website data can uncover invaluable information about your email program, email content, and point you in the right direction for future growth.
Catalyst's Lora Downie shares with you three secrets of effective subscriber management and the three ways to drive the most revenue from your best asset: your subscribers.
Download Whitepaper: How to Drive Higher ROI From Your Email Subscribers
About Lora Downie
Lora Downie has specialized in email program strategy, design strategy and best practices at Catalyst for nearly a decade. When she's not improving clients' email programs, you'll find her cooking up exotic recipes for her family, discussing the latest theatre flick or traveling the globe when she can find the time. Lora is a certified MarketingSherpa email specialist and has been published twice in DM News' Email Marketing Guide. She recently co-led a session at ExactTarget's prestigious Connections conference. Reach her at ldownie(at)catalystinc(dot)com.
About Catalyst
Catalyst (http://www.catalystinc.com) is a direct and digital marketing agency that helps clients acquire, retain and develop long-term relationships with their customers. The agency takes the guesswork out of marketing decisions by combining intellectual curiosity and inquisitiveness with hard-core analytics, deep customer insight and a measurement mindset. We call it Science + Soul. Headquartered in Rochester, NY, our clients include AAA, Assurant Health, Eastman Kodak Company, First Niagara Financial Group, GE Money, Heraeus Kulzer, Neff Motivation Inc., Oreck, and Valvoline, among others.
Follow us:
Twitter: http://www.twitter.com/scienceplussoul
Facebook: http://www.facebook.com/scienceplussoul
###