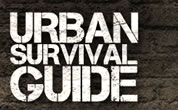 I've gotten some great feedback on how my website has helped people to prepare for disasters and, most importantly, given them peace of mind
(PRWEB) April 28, 2011
SecretsofUrbanSurvival.Com, which specializes in providing information on how to prepare for and survive natural disasters and civil unrest, announces that it has redesigned its website. The site now features:

A navigation bar on the top of the page to give users easier access to articles
New links to social media properties
A visually appealing color scheme
The redesign of Secrets of Urban Survival.Com was prompted by the need to have disaster preparation information available in a simple to use format. While things like natural disasters and civil unrest aren't exactly pleasant topics, they do happen. Governments are stretched thin, even in "good times". When disaster strikes, as it did with the recent earthquake and tsunami in Japan and with Hurricane Katrina in New Orleans, it becomes clear that government and non-governmental organizations (NGO), like the Red Cross, can't immediately get to everyone who needs help. This can lead to delays in getting medical treatment and even death. All the more reason for people to have a resource, like Secrets Of Urban Survival.Com, which gives them the information they need in order to prepare for such disasters, protect their families, lessen the burden off of government and NGO's and return to normal/pre-disaster life, as soon as possible.
In particular, the website now features the weekly newsletter of founder and modern survival expert David Morris, categorized into relevant topics. This helps people to find the information they need to prepare and most importantly survive all sorts of disasters. Time is of the essence, even when there isn't a disaster. So, the sooner people find the disaster preparation information they need, the sooner they can put the information to good use.
"I've gotten some great feedback on how my website has helped people to prepare for disasters and, most importantly, given them peace of mind," said Morris. "Yet, these same people told me that the information wasn't very easy to find. So, I worked with some website designers and we settled on a design that gives people what they need, in an easy to use format."
In addition to being redesigned, Secrets of Urban Survival.Com also features Morris' disaster preparedness and first aid manual, titled Survive in Place. This manual is full of information on survival strategies, disaster preparedness techniques and first aid tips that anyone can do, regardless of prior experience, in any disaster situation. To receive Survive in Place, go to surviveinplace.com.
"I wanted to improve upon all the work I've done in the area of modern disaster survival," said Morris. "I feel that disaster preparation equals self-reliance, yet all the disaster information in the world doesn't amount to a hill of beans, if you can't get to it before 'IT' happens. That's why I started Secrets of Urban Survival.Com, to give people the tools they need to protect themselves and those close to them, so that when disaster strikes, they know what to do."
To learn more go to http://lamplighterpublishing.co/.
About Secrets Of Urban Survival.Com
Founded in 2009 by modern survival expert, David Morris, Secrets Of Urban Survival.Com doesn't advocate that people move to the country and live like the pioneers of the 1800's, nor is it just a "stock your basement with canned soup and bottled water" survival website. What sets Secrets of Urban Survival.Com apart is that the site has information ordinary folks can use to prepare for disasters, either right where they live (Morris calls it "Surviving in Place") or, if necessary, by moving to separate location until things have returned to normal. While no one can control when or where disasters, like hurricanes, earthquakes or tsunamis strike, with the help of Secrets of Urban Survival.Com people can prepare for and, most importantly, survive such disasters.
# # #