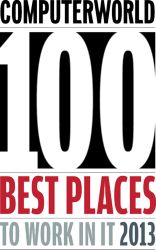 We believe in creating a culture that both challenges and empowers team members to bring new ideas and creativity for innovative solutions.
Southfield, Michigan (PRWEB) June 17, 2013
Secure-24 - a leading provider of IT operations, application outsourcing and cloud computing - announced today that it has been designated by IDG's Computerworld as one of 2013 Best Places to Work in IT. For the first time, Secure-24 is included on the list of top 100 organizations that challenge IT staffs, while providing great benefits and compensation. The company was ranked #57 on the list.
"It is an honor to be recognized by Computerworld. We believe in creating a culture that both challenges and empowers team members to bring new ideas and creativity for innovative solutions. By creating an environment that focuses on professional and personal development, we're able to attract top engineers and technical experts to provide world-class services for our clients," said Chief Executive Officer Mike Jennings.
For the past 12 years, Secure-24 has grown significantly, driven by the increased demand for managed IT operations, application hosting and cloud computing. Through strategic partnerships, Secure-24 enables organizations to transform their IT into a strategic business driver with cost-effective technology. These management solutions are targeted at helping companies improve system performance, while being able to do more with less.
Secure-24 key products and services include:

Enterprise Hosting
SAP Hosting and Cloud Services
Oracle Hosting and Cloud Services
Web Application Hosting
Business Application
Compliance
Secure-24 supports customers in growing industry segments, including manufacturing, technology, consumer goods, chemicals, financial services, government, construction, healthcare, pharmaceuticals and transportation.
With continued growth this year, Secure-24 is expanding its Metro Detroit-based headquarters and investing in more hosting space within a new data center outside of Las Vegas. The company also continues to recruit top talent in IT and business administration.
"We applaud the organizations on the Best Places to Work in IT list for creating and sustaining dynamic IT work environments," said Scot Finnie, editor in chief of Computerworld. "This year, several new names have joined the stalwarts that make the list year after year. It's clear that the best IT workplaces are constantly raising the bar with great benefits, new learning opportunities, access to cutting-edge technologies and challenging business-critical projects."
Secure-24 also has a training program that allows new team members to gain firsthand experiences by working directly with cutting edge technologies. Within a lab environment, employees have unrestricted access and real-world challenges to consistently improve their skills. This program is designed to bring out the best in their talents and to provide opportunities for advancement.
In addition to competitive compensation, benefits and training, Secure-24 employees enjoy holiday parties, picnics, tickets to sporting events, company sports teams (softball, flag football and hockey), happy hours, catered lunches, free Starbucks service, treadmill workstations, game rooms and free gym access. There are also annual awards given to team members for outstanding performance.
In keeping with the Secure-24 culture that values each team member's ideas and input, everyone has direct access to senior management, which remains an important cornerstone of the organization.
About Secure-24
Headquartered in the Detroit Metro area, Secure-24 is a privately held company delivering managed IT operations, ERP application hosting and cloud computing services from state-of-the-art data centers in Michigan, Arizona and Nevada. The company manages complex IT landscapes and business critical applications for mid-market and Fortune 500 organizations that operate globally. Secure-24 is a SAP Certified Hosting and Cloud Provider with a broad SAP Basis Competency Center, and an Oracle Gold Partner hosting Oracle Enterprise Performance Management (EPM) solutions, such as Oracle E-Business Suite, PeopleSoft, JD Edwards, and Hyperion. Secure-24's other alliances include Cisco Premier Partner, Gold EMC Velocity™ Service Provider, VMWare vCloud Powered, Silver Citrix, and RedHat Ready Hosting Partner. For employment, visit Careers at Secure-24.
About the Best Places to Work in IT
The Best Places to Work in Information Technology (IT) list is an annual ranking of the top 100 work environments for technology professionals by IDG's Computerworld. The list is compiled based on a comprehensive questionnaire regarding company offerings in categories such as benefits, diversity, career development, training and retention. In addition, Computerworld conducts extensive surveys of IT workers, and their responses factor heavily in determining the rankings.
About Computerworld
Computerworld is the leading source of technology news and information for IT influencers, providing peer perspective, IT leadership and business results. Computerworld's award-winning website, publication, focused conference series, custom solutions and custom research forms the hub of the world's largest (40+ edition) global IT media network and provides opportunities for IT solutions providers to engage this audience. Computerworld leads the industry with an online audience of over 3.8 million unique, monthly visitors (Omniture, November 2012) and was recognized as the Best Website by ASBPE and TABPI in 2012. Computerworld is published by IDG Enterprise, a subsidiary of International Data Group (IDG), the world's leading media, events and research company. Company information is available at http://www.idgenterprise.com.
Note: All product and company names are trademarks of their respective organizations.
# # #