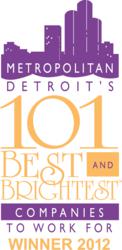 Southfield, MI (PRWEB) September 26, 2012
Secure-24 Inc. — a leading provider of managed IT operations, application outsourcing and SAP cloud computing — welcomes the public to its Talent Fair, where job candidates can learn about the company and apply for over 70 open positions.
The Secure-24 Talent Fair is on Tuesday, October 23 from 5:00 – 8:00 p.m. at the company's headquarters, located at 26955 Northwestern Highway in Southfield. Attendees should register in advance at http://secure-24.com/resource/talent-fair, where they can upload their resumes, select their areas of interest and view the latest openings.
During the event, registrants will have the opportunity to network, meet Secure-24 team leaders, tour the new headquarters, take part in casual on-site interviews, and enjoy appetizers. This free event is open to all, and provides an opportunity for applicants to gain an inside view of working at Secure-24.
Currently, the company is seeking talented individuals with skills in computer technology, software applications (SAP and Oracle), system engineering, accounting/finance, marketing, customer relations help desk, project management and human resources. Interested parties can find the most current list of job openings at http://www.secure-24.com/job-listings.
In August, Secure-24 was selected as one of Metropolitan Detroit's 101 Best and Brightest Companies to Work For. The annual award goes to organizations that rank highly in several human resources categories including compensation and benefits, employee education and development, engagement, recognition, diversity, work-life balance, and recruitment.
While ranking high in these categories, Secure-24 also offers employees 100 percent paid medical, vision and dental insurance, along with flexible work schedules and ergonomic desk options. Employees also enjoy holiday parties, picnics, access to sporting events, Secure-24 softball, flag football and hockey teams, happy hours and catered lunches.
The company's new headquarters in Southfield offers additional amenities such as free Starbucks service, treadmill workstations, game rooms and free gym access.
The company maintains teams of highly experienced professionals with specializations in business management, cloud computing, critical application management and IT outsourcing services. The company supports the global operations of mid-market companies and Fortune 100 enterprises in growing industry segments, including manufacturing, technology, consumer goods, chemicals, financial services, construction, healthcare, pharmaceuticals and transportation.
About Secure-24, Inc.
Headquartered in Metro Detroit, Secure-24 delivers managed IT operations, hosting and cloud computing from its state-of-the-art data centers in Michigan and Arizona. The company manages complex IT landscapes and business critical applications for mid-market and large organizations that operate globally. Secure-24 is a Certified SAP Hosting and Cloud Provider with a broad SAP Basis Competency Center, and an Oracle Gold Partner for hosting Oracle Enterprise Performing Management (EPM) solutions, such as Oracle E-Business Suite, PeopleSoft, JD Edwards, and Hyperion. Visit us at http://www.secure-24.com.