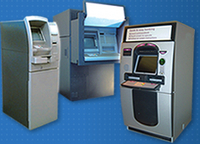 Secure disposal of data has always been a critically important stage in ATM remanufacture and refurbishment.
(PRWEB) June 30, 2010
Following successful security audits, TestLink now meets the requirements for the handling and disposal of encrypted keyboards and hard drives.
Highly acclaimed, independent ATMs supplier TestLink has now expanded its secure data disposal facilities in order to meet an increasing demand in the industry. A growing concern over the security of used ATMs being freely available to purchase, has prompted more buyers across the world to turn to TestLink for their secure ATM data disposal solutions.
With a 20-year track record of proven excellence and unrivalled experience in the industry, TestLink is well aware of this growing demand for ATM secure data disposal. It has recently demonstrated to a number of leading financial institutions compliance to their security requirements for the handling and disposal of encrypted keyboards and hard drives.
Secure data disposal is a key benefit for banking groups and ATM deployers who are increasingly turning to TestLink for a turnkey solution for their ATM sales, ATM parts and Chip and PIN needs. This established portfolio of clients, including a major global cash-handing group, rely on TestLink to provide complete end-to-end secure disposal of their ATM-related waste.
In order to ensure complete traceability, TestLink's specialist secure data disposal teams record all incoming ATM and Chip and PIN-related waste on a secure database, logging each item with its original OEM product code. All data units are then stored in secure facilities which have been approved by the banking industry, and will remain in secure storage for as short a time as possible in order to maintain the upmost levels of security.
All items tagged for secure data disposal are shredded into pellets measuring only a few millimetres in size. The metal pellets are then smelted in furnaces until completely liquefied so they can be safely recycled into other products - promoting another key element of TestLink's environmental policy.
Every single item of ATM waste is then officially certified as having undergone secure disposal for compliance and complete peace of mind. This secure data disposal process is available on demand at 48 hours' notice, increasing the speed of availability for added security.
TestLink Managing Director Greg Hughes said: "Secure disposal of data has always been a critically important stage in the ATM remanufacture and refurbishment process.
"But with growing concern over ATM security around the world, more and more companies are turning to TestLink as a trusted partner to provide secure ATM storage and disposal."
Companies seeking to improve security and reduce their costs further can now outsource their ATM management and ATM parts inventory management to TestLink, allowing them to concentrate on their core business.
TestLink consistently places a high priority on environmental responsibilities and has consistently played a vital role in reducing ATM-related waste by:

acquiring and securely storing surplus ATMs
remanufacturing used ATMs to 'as new' condition so they are as reliable than brand new ATMs - extending their operational lifespan and reducing landfill waste
carrying out secure data disposal by shredding ATM hard drives, encrypting PIN pads (EPP) and Chip and PIN devices to bank-approved standards.
Further services provided by TestLink include:
TestLink operates to the ISO9000 and ISO14001 quality standards and has an ethical environmental policy.
For more information, contact Managing Director Greg Hughes, +44 (0)1202 627100.
Information for Editors:
UK & Western European Operation
TestLink Services Ltd
No. 1 Factory Road
Upton
Poole, Dorset
BH16 5SJ
United Kingdom
Telephone: +44 (0)1202 627100
Fax: +44 (0)1202 625577
Central European Operation
TestLink Services Ltd
Luzna 591/4
Prague 6
16000
Czech Republic
Telephone: +420 220 121 450
Fax: +420 220 121 449
TestLink - Cutting Costs By Innovating Service
TestLink Services Ltd is an independent ATM supplier specialising in ATM remanufacture, ATM refurbishment and ATM asset & estate management - benefiting the global environment by increasing the reuse and recycling of automated banking equipment and reducing ATM-related waste.
ATM operators and third party manufacturers across the world can cut costs by up to 70 per cent by purchasing ATMs remanufactured by TestLink to 'as new' condition.
TestLink has 20 years of experience providing repairs to the leading ATM OEMs and maintenance organisations. The company has a capability across NCR and Wincor ATMs on all module types.
TestLink engineers strip each ATM down to its individual components, painstakingly rebuilding each module for maximum operational efficiency and longevity of service.
Each refurbished ATM undergoes a detailed 210-point inspection at TestLink before being shipped with delivery from just seven days.
Services provided by TestLink include:

ATM asset & estate management with detailed reports on how well your ATMs are functioning, recommended servicing and preventative maintenance, modules and parts inventory. Reports include the performance of external non-TestLink engineers and whether they need ATM training to improve productivity
ATM inventory management - sophisticated systems with online visibility of your inventory and its movements; secure storage of modules and parts; secure disposal of old or obsolete parts and modules to UK Ministry of Defence standards
ATM parts repairs - fast turnaround time; online status system; premium quality parts; obsolete part support; direct to site international shipment by advance exchange
ATM cassettes (NCR, Wincor, Fujitsu) - supply of refurbished ATM cassettes; repair and refurbishment of ATM cassettes; testing and configuration of ATM cassettes
supply of hand-portable NCR ATM cassette testing systems
ATM security - anti-ramming, anti-skimming and ATM cassette locking bars
mobile computer support to the corporate sector, repairing OEM products both inside and outside warranty
mobile computer support to SMEs and individual computer users via TestLink's dedicated website http://www.laptopsupport.co.uk
specialised Chip & PIN repairs on behalf of banks and third party maintenance organisations; refurbishing Chip & PIN devices to 'as new' condition.
TestLink serves its global markets from two fully resourced repair centres in the UK and one in the Czech Republic. Many of the 150 staff have direct OEM experience gained as engineers at ATM manufacturers NCR and Wincor.
TestLink was founded in 1989. It is still managed by its two founders, Chairman Nick Beer and Managing Director Greg Hughes.
The company operates to ISO9000 quality systems and ISO14001 environmental systems standards with an ethical environmental policy.