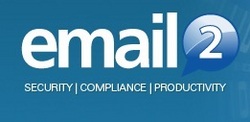 The patent recognizes email2 as an innovative leader within the content delivery and email security industry.
Oregon City, OR (PRWEB) March 1, 2011
email2, the leading provider of secure cloud email and content delivery, is proud to announce it has been granted patent number 7,730,142 by the United States Patent and Trademark Office for its revolutionary Electronic Mail System, with the ability to send both private and public email threads within the context of a single email conversation. The patent recognizes email2 as an innovative leader within the content delivery and email messaging security industry.
Traditional email messaging is designed so that a single email message is available to all its recipients. With email2's new patented Electronic Mail System, senders can now add private conversations to certain recipients within the email thread that is only available to certain recipients.
Utilizing email2 messaging technology, HIPAA regulated HMO's, Hospitals, Insurance brokers and medical clinics can securely communicate with patients and fellow associates to send protected health information (PHI) and other sensitive data.
"In a situation where a secure message is sent to a patient with the Doctor and the Compliance Department carbon copied to the message, the sender then has the ability to continue a private thread between the Doctor and Compliance Department without the patient having access to the private thread," says Thierry LeVasseur, Founder and CEO of email2. "Our patented technology has given various medical organizations an extremely competitive advantage in the marketplace."
The unique ability to send both private and public threads within the context of the same conversation is ideal for industries including Law, Finance, Government and Healthcare, where sensitive or classified information is often withheld from certain departments, agencies, or customers.
email2's patented Electronic Mail System is highly cost-efficient and compatible with any existing email system or webmail account. email2 is currently offering a free 30 day trial period to companies who are interested in increasing the protection of sensitive information from unclassified sources. Visit http://www.email2.com to view a complete description of this unique patent and learn about all of email2's available packages and price options.
EMAIL2 – http://www.email2.com
Established in 2006, email2 is dedicated to providing the very best in Secure Cloud Email and Content Delivery. The email2 mission is to offer businesses an email encryption service far superior to any other product in the market. With thousands of accounts activated worldwide, email2 has emerged as a leading full service email messaging security provider.
###