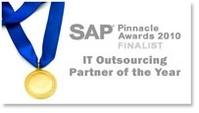 Secure-24 offers a highly scalable and comprehensive solution.
Southfield, MI (PRWEB) October 18, 2010
Secure-24, an SAP® hosting partner and leading provider of managed hosting, private cloud computing, and disaster recovery solutions, will showcase its capabilities at the SAP TechEd 2010 Las Vegas conference, being held Oct. 18–22 at the Venetian/Palazzo Congress Center in Las Vegas.
As an SAP-certified provider of hosting services and 2010 Pinnacle Award finalist for IT Outsourcing Partner of the Year, Secure-24 manages complex SAP landscapes for mid-size and large organizations in industry and government that operate globally. Secure-24 leverages industry-leading technology with SAS 70 Type II data centers and a long-established history of ITIL and COBIT IT management processes to help customers lower their cost of ownership, mitigate risk and meet compliance mandates (e.g., SOX, HIPAA, ITAR, FFIEC, ISO).
Secure-24's team focused on SAP solutions will be on hand in the exhibit hall to highlight the company's single-source support for the entire lifecycle of SAP solutions. The team will share its capabilities and expertise related to SAP solutions and demonstrate how to unlock strategic advantages, mitigate risk, increase efficiency and maximize IT investments.
"Organizations across all industries are looking at how they can increase value from technology," said George Surface, vice president of SAP Services, Secure-24. "Secure-24 offers a highly scalable and comprehensive solution, which enables organizations to create more value and drive enterprise transformation through leading technologies in virtualization, storage, private cloud computing, and unified infrastructure."
Secure-24 has what companies seek for technology efficiency and transparent business practices. The company has put a high priority on client success and delivering value in enterprise hosting services, approaching each client like a partner, not a vendor. Secure-24 clients benefit from high-quality service, reduced costs, seamless integration, unlimited scalability and improved communication at all levels.
Visit Secure-24 in booth 311 at SAP TechEd 2010 Las Vegas.
About Secure-24, Inc.
Based in Southfield, Mich., Secure-24 is a premier provider of managed hosting, private cloud computing, disaster recovery and managed services for the mission-critical IT applications of industry and government. An SAP hosting partner and SAP-certified provider of hosting services, Secure-24 has a broad SAP Basis Competency Center and an executive management team experienced in hosting SAP solutions. Secure-24 provides critical application hosting and managed services to organizations that need to meet rigorous compliance metrics (e.g., SAS 70, HIPAA, Sarbanes-Oxley, ITAR, GLB, ISO, FFIEC). A deep knowledge of enterprise resource planning systems and complex architectures combined with state-of-the-art data centers and infrastructure allow Secure-24 to deliver solutions that are highly available and scalable to meet evolving business needs.
For more information on Secure-24's hosting services in support of SAP solutions, call 877-5-SAPEXPERTS (877-572-7397) or visit http://www.secure-24.com/
SAP and all SAP logos are trademarks or registered trademarks of SAP AG in Germany and in several other countries.
All other product and service names mentioned are the trademarks of their respective companies.
###