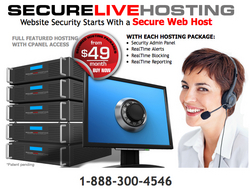 Fishkill, New York (Vocus) April 16, 2010
SecureLive LLC, a New York and Ohio based Internet security company recently launched SecureLiveHosting.com. The company is offering unique security based hosting accounts. These accounts are built on SecureLive's patent-pending system. Every account is protected at the server and application level giving the customer unparalleled dual layer security and protection right out of the box for a small hosting fee. The SecureLive system has blocked almost one half of a million attacks since 2009, shut down almost 10,000 attack sites and is responsible for initiating 11 prosecutions in just twelve months.
The word "Secure" appears on most web hosts' marketing copy. But a closer look reveals there is no real product or system in place or any explanation or details about any "system" being deployed. So…. where is the security? Can you see it? How do you know it is working? Can you test it? How effective is it? What is the protection success rate? There are too many questions left unanswered. There is way too much hype and no real security. Buying security without an ingredient list is like buying insurance without a declaration page. SecureLive is a real product and service with a list of ingredients that you can see, feel and test.
SecureLive secure web hosting is one of only a handful of web hosts that actually has a "security product". The product is unique enough to be protected under the US patent laws. You can actually see the product at work by logging into your account and looking at all the hacker activity, all the attempts that were stopped, who they were, where they came from, view reports and even trace the hackers back to their origin. Everything is completely automated: protection, alerting and reporting, into one easy to manage hosting account. Why wrestle with security again. Host it and frost it!
Is secure web hosting for you? if your web assets are valuable, then the answer is yes. Something that has value is worth protecting. There is nothing on the web that can host and protect your website, data, customers, applications like a SecureLive Hosting account. You have to host anyway.. why not secure host it?
SecureLive Hosting has reduced the complexity of website security into a single set-it-and-forget-it affordable package. Anyone can now be totally secure in the time it takes to get a hosting account from SecureLiveHosting.com
About the Service:
SecureLive Hosting incorporates Software Bots, Artificial Intelligence Technology, Complete Covert Data Acquisition, Existing Global Hacking Knowledge-base, Live Human Intervention, SMART Real-Time Diagnostics and Automation to pack three separate systems into one for a complete ROUNDED solution to today's security threats against websites and servers; BLOCKING, ALERTING AND AGENCY REPORTING.
For additional information regarding this release, please contact Fred Sarhadi or visit http://www.securelivehosting.com
Contact:
Fred Sarhadi, Marketing / Sales
SecureLive LLC
(888) 300-4546
http://www.SecureLiveHosting.com
# # #