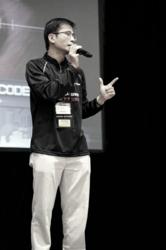 It is an honor and I'm excited to be part of Secure Ninja's immensely qualified team, which is on the leading edge of information security services and training methodology development
Alexandria, VA (PRWEB) February 22, 2012
Secure Ninja, a premier information technology training and services company, is pleased to announce the appointment of Leonard Chin as Vice President to lead its international marketing and business development. In response to the global opportunity for its leading edge security services, Secure Ninja also announces its expansion into Europe, the Middle East and Africa (EMEA), along with select markets in Asia Pacific and South America. With a decade of experience in developing new business and driving international sales, Leonard will be a key asset to Secure Ninja as the company grows its customer and value-added reseller (VAR) base in the coming year.
Leonard possesses extensive field experience specializing in sales and marketing functions across numerous industries including finance, conference, seminars, franchise, technical training and education. Leonard has established countless strategic partnerships with numerous Fortune 500 companies and government organizations. Leonard is well known as a conference specialist, having successfully managed a string of highly successful EC-Council conferences during his tenure. He was instrumental in conceptualizing and organizing the first Hacker Halted USA in 2008 and thereafter making it a mainstay in Miami. Leonard was responsible for launching, designing and directing the highly technical TakeDownCon series, which was recently hosted in Dallas and Las Vegas in 2011.
"We are delighted to have Leonard Chin on our team. He is an extremely knowledgeable and well-connected infosec business professional who possesses great leadership ability and outstanding communication skills, which are crucial elements to effectively manage and influence people towards meeting our company's international business objectives," said Ned Snow, President, Secure Ninja. "By combining Leonard's expertise to manage a strong team of subject matter experts and sales engineers in key regions, Secure Ninja will be well positioned for our next phase of innovation and growth."
Prior to this appointment, Leonard was a key executive at EC-Council, creator of the world renowned Certified Ethical Hacker (CEH) programs as well as numerous other recognized certifications such as the CHFI, ECSA and Licensed Penetration Tester (LPT). He held various roles within the organization including Director of Marketing, and Director of Conferences & Events, as well as concurrently being the Conference Director for both the TakeDownCon and Hacker Halted conference series. And in 2011, he was appointed as the Vice Chair of the world's first international team ethical hacking games - the Global CyberLympics.
"It is an honor and I'm excited to be part of Secure Ninja's immensely qualified team, which is on the leading edge of information security services and training methodology development," said Leonard. "I'm looking forward to expanding Secure Ninja's suite of security services and training offerings internationally, ensuring its growth and market captivity, as well as attaining global branding."
About Secure Ninja
Secure Ninja is a leader in Information Security, IT training and certification such as CISSP, Security+, CEH, CAP, CISM, ISSEP, ISSMP, ISSAP, Cloud Security, Wireless Security and Computer Forensics to name a few. Secure Ninja has been providing businesses with programs that answer regulatory needs and skills gaps for over 8 years. Our training programs educate and certify employees in the areas that are critical to business operations. With certified professionals on staff, the company demonstrates that it is seriously engaged in producing ROI on technology investments and handling compliance requirements competently. Our programs also create solutions for the DOD and the system integrator community by answering the certification needs of the 8570.01-M mandate. Secure Ninja's assessment, consulting and security services division specializes in governance, risk and compliance programs for both corporate & government agencies including information assurance, IV&V security audits and cyber-security solutions. For more information visit http://www.secureninja.com
###