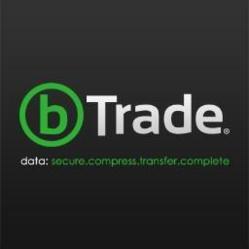 "Our performance was very strong for the full-year of 2012 and continues to validate our fundamental strategy and vision for our managed file transfer solutions and services", notes Steve Zapata, President and CEO of bTrade.
Glendale, CA (PRWEB) April 01, 2013
Industry leading secure file transfer, compression and managed file transfer (MFT) provider, bTrade, today announced strong financial results for full-year 2012 which ended December 31, 2012. The company has continued to execute its growth strategy through industry partnerships, certifications and introduction of secureXchange, its next-generation managed file transfer and secure file transfer solution. The result has been strong financial growth that has led to further investment in new capabilities and in the hiring of senior executives for key management positions.
2012 Financial Highlights Include:

9% revenue growth in 2012 over 2011
9% increase in net income in 2012 over 2011
Consistent healthy and strong operating margins compared to 2011
Achieved the high end of Adjusted EBITDA target at 55%
Strong and increased recurring revenue streams
Continued strong and increasing cash flow
Doubling top-line revenue since 2009
2012 Business Highlights Include:
Launch of secureXchange - secureXchange is the latest step in the company's 20 plus years of managed file transfer innovation, providing an across-the-board consolidation of all currently published secure file transfer solutions under a single banner. secureXchange blends proven secure file transfer solutions that have been tried and tested over the past two decade with continuous improvement and advances to its secure file transfer technologies. The company will continue to focus on its vision of evolving into the premier global provider of compression, secure file transfer and managed file transfer solutions.
Hiring of new senior management members:
Jerome Mendell - Executive Vice President of Global Sales
Peter Voveris - Director of Professional Services and Product Management
Strategic Partnership with ATEB Servicios de Mexico to launch solutions for managed file transfer in the Mexican and Central American markets.
Minority Business Certification (MBE) - bTrade met the certification criteria for a "Minority Business Enterprise" as established by the National Minority Supplier Development Council (NMSDC) and was approved by the Board of Directors of the Southern California Minority Business Development Council (SCMBDC). The nearly 200 corporate members of NMSDC and SCMSDC represent a Who's Who in Corporate America.
2012 New and Expanded Customer Achievements:
Entertainment Industry - Signed an agreement with a leading multinational entertainment and motion picture provider to deploy secureXchange, the strategic managed file transfer solution, which will allow the customer to exchange information via secure file transfer with their numerous global trading partners.
British Columbia Ministry of Health - Expanded its use of our secure file transfer and managed file transfer software to handle additional data transmissions.
Polish Judicial System - Selected as the secure file transfer solution provider for the Polish Judicial System, with multiple installations in the local district courts.
Banking Industry in Panama - Every major bank in Panama is using bTrade's managed file transfer software to meet their data security needs.
"Our performance was very strong for the full-year of 2012 and continues to validate our fundamental strategy and vision for our managed file transfer solutions and services", notes Steve Zapata, President and CEO of bTrade. Mr. Zapata added: "Revenue, cash and earnings have all increased on a solid basis in 2012 and I am confident that our secure and managed file transfer solutions and services will continue to allow our customers to improve their business-to-business offerings in the managed file transfer arena going forward."
About bTrade
bTrade develops secure file transfer and managed file transfer technology solutions for enterprises that share sensitive data across applications and organizations, and face complex security and compliance mandates. Thousands of customers depend on bTrade's secure file transfer solutions to gain control and oversight of the movement of critical corporate data to facilitate data growth, reduce security risk, and improve IT and business efficiency. The company was founded in 1990 and is led by eBusiness visionaries who have delivered industry-leading business integration solutions to thousands of enterprise customers worldwide. bTrade is privately held and profitable with its global headquarters located in Glendale, CA USA.
For more information on managed file transfer solutions and services, please visit bTrade.com