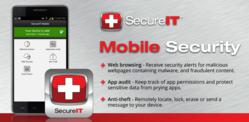 It's becoming clear that consumers recognize the need to protect their devices and their personal data. Robert O'Dell, President and CEO of SecurityCovarege, Inc.
Cedar Rapids, IA (PRWEB) February 28, 2013
SecurityCoverage today announced that nTelos wireless will offer SecureITMobile – the popular, robust mobile malware and anti-theft solution – to its mobile subscribers. Under the agreement, nTelos customers can purchase SecureIT at a discount to keep their Android smart phones and tablets free of mobile malware and leverage powerful anti-theft features to locate, lock, message or wipe their devices if they are ever lost or stolen.
The nTelos selection is the latest in a series of new SecurityCoverage partnerships that show growing demand for its mobile security and data protection products. Just last month, SecureIT Mobile, FileHopper(cloud storage and backup) and Password Genie Mobile (data and password protection) were selected for inclusion in the Competitive Carrier Association's (CCA) "Carrier Approved App Store." CCA is the nation's leading association for competitive wireless providers, and nTelos is an active member.
"People would never think to leave their PC unprotected, but threats to tablets and smart phones are just as real. It's becoming clear that consumers recognize the need to protect their devices and their personal data," said Robert O'Dell, President and CEO of SecurityCovarege, Inc. "We commend nTelos for being one of the first regional carriers to bring a mobile security solution to market, and are excited to partner with one of the market leaders."
SecureIT Mobile will be marketed through a variety of SMS, website and direct marketing methods by nTelos. The solution offers nTelos Android users with complete protection for their mobile devices including:

Anti-Theft: Remotely locate, lock, erase or send alerts in case the device is lost or stolen.
Malware Protection: On-install and on-demand scanning of apps protects users from the growing threat of Android malware.
Web Browsing Security: Alerts users to websites containing malware, phishing and fraudulent content.
App Audit: Keeps track of app permissions and monitor which apps attempt to access sensitive data or billable device functions like text messages or phone calls.
"More than half of mobile subscribers now carry a smart phone and tablet sales continue to rise. This represents a huge opportunity for carriers and wireless retailers to offer device and data protection demanded by their customers," said O'Dell. "At the same time, it offers the carrier and wireless retailers a chance to deliver an additional phone and tablet accessory and service while also recognizing a new revenue stream from apps that have traditionally only been available as direct purchases through the mobile OS app stores."
About SecurityCoverage
Based in Cedar Rapids, Iowa, SecurityCoverage's mission is to simplify the use of technology and provide world class customer service. Known for award winning digital security, data protection, and exceptional support services, SecurityCoverage secures online identities and devices across desktop, mobile handset and tablet environments. It serves customers through a partnership group of electronic retailers, Internet Service Providers, and telecommunications and cable companies across the nation. Product and company information is available at http://www.securitycoverage.com.
###