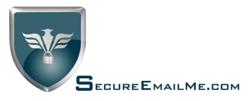 Scottsdale, Arizona (PRWEB) July 09, 2012
SecureEmailMe.com announces the availability of its Secure Encrypted Email Service for businesses and their clients. To protect customers' private information online, SecureEmailMe.com enables industries such as financial, insurance, mortgage, HR and legal to easily send secure emails and documents to employees, business partners and customers. The system is developed based on NIST and HIPAA security standards.
SecureEmailMe.com enables businesses to exchange messages and documents with employees, partners and customers on a secure platform. All messages and documents on the system are encrypted and maintained with the highest level of security. SecureEmailMe.com empowers organizations to protect privacy of customer information and reduce the risk of fraud and identity theft. With SecureEmailMe.com, users can sign up and immediately send and receive secure emails. Messages are never transmitted on the internet and do not reside on exchange servers, desktops, laptops or mobile devices.
"Businesses must institute safeguards to protect sensitive consumer information such as names, addresses, Social Security, credit card and account numbers at all times. Yet, everyday, laptops and mobile devices containing emails with consumer confidential information are hacked, lost or stolen. Protecting customer data is no longer a luxury but a necessity," says Mack Baniameri, CEO of Health BI.
SecureEmailMe.com offers clients the following features:

Secure Email
Secure Document Hosting
Document Viewer
Unlimited Contacts
Admin Tool
Audit Reporting
Corporate Address Book
About Health BI
From healthcare to business, we got you covered…
Health Business Intelligence Corp is the leading developer of secure online and mobile messaging technology for business, healthcare and financial sectors. Headquartered in Scottsdale, Arizona, Health BI was created by a group of industry leaders and physicians to fill the need for tools that facilitate secure online and mobile communication, collaboration and information sharing among healthcare providers, vendors and patients. The success of Health BI's secure messaging technology prompted the company to introduce a modified version of its secure email product to business and financial sectors.