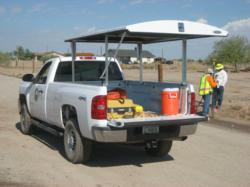 "If a thief jimmies it open, we'll buy it back," says Brian Sedlar, Director of Marketing for HercuLoc, LLC.
Phoenix, Arizona (PRWEB) December 20, 2011
Herculoc, LLC is introducing a new industrial pickup bed cover for work trucks. This patented security cover opens completely up and over the pickup bed, providing total bed access and shade at the job site. Designed to out-last the truck, it is constructed to be the most secure and robust truck cap on the market.
Because HercuLoc, LLC has received such a favorable response to its newest pickup truck bed top design; it's seeking sales representatives with experience in commercial and government fleet sales. http://herculoc.com/contact-us/
When the HercuLoc is closed and locked, it secures the contents of the truck bed with a patented locking system. It cannot be jimmied open. The lock cylinder is a high security barrel type like on vending machines. The closed cover also holds the tailgate shut.
The HercuLoc is easy to operate; it is counter balanced on torsion bars and gas springs. To open it, simply pull on the latch handle and the rear of the cover pops up about a foot high. Give the cover a push up and it rises completely up and locks itself in the raised position. This design makes it possible to drive 75 MPH with the cover raised to haul large cargo. The patented control linkage makes it easy to close.
"Work truck customers need security and easy access from all sides of the pickup bed. Customers also tell us that having shade at the job site is a huge benefit," says Gary Thacker, inventor of the Herculoc.
The HercuLoc cover is made of gel coated honeycomb fiberglass and zinc plated 12-gauge steel. The fiberglass cover sits atop a steel frame and is isolated from all opening and closing forces. All moving parts are on bearings. HercuLocs are now available for Ford F-Series and GM Silverado/Sierra trucks, which represent the vast majority of commercial and government fleet trucks.
No other truck bed cap has the high security and durability of the HercuLoc. "If a thief jimmies it open, we'll buy it back," says Brian Sedlar, Director of Marketing for HercuLoc, LLC.
###