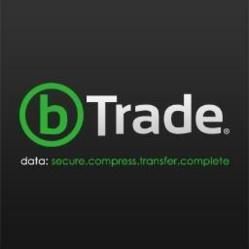 This is the most significant release since secureXchange was originally launched. It constitutes the culmination of efforts and client feedback from our more than 20 years of experience in the managed file transfer space
Glendale, CA (PRWEB) June 25, 2013
bTrade, the industry leading compression and managed file transfer (MFT) provider, today announced the release of secureXchange 4.0. Developed exclusively on bTrade's proven and stable foundation, this groundbreaking release will bring secure MFT to a whole new level. It is already being described as "what managed file transfer should be" and "MFT 4.0".
Clifton Gonsalves, bTrade's VP of Engineering, and one of the bTraders charged with responsibility for meeting the company's vision, issued this statement:
"This is the most significant release since secureXchange was originally launched. It constitutes the culmination of efforts and client feedback from our more than 20 years of experience in the managed file transfer space. We wanted to turbocharge the MFT process by utilizing proven protocols, simplified on-boarding and extremely precise logging. And we've added the ability to migrate from not just our heritage platforms, but also platforms from our biggest, most complex competitors."
secureXchange 4.0 brings the following features and improvements to the enterprise without the usual costly overhead or extensive services:

Radically new GUI with natural flow patterns
Enhanced support for high availability and clustering
A robust migration tool
Exponential performance enhancements
Enhanced performance for secureXchange relay
Utilizing the latest versions of Java
Additional support added for XML files
Added support for defining generic relationships
Significant certificate management improvements
Complete support of compress (Xcp)
Improved, enhanced and more detailed logging for deeper more precise auditing
Jerome Mendell, bTrade's VP of Global Sales, shared his thoughts about secureXchange 4.0:
"I've seen so many companies try to add another layer onto their legacy application, only to have it just add complexity. With the advent of secureXchange migration, the painstaking task of upgrading or changing disappears. The ability to utilize high availability and clustering means infinite scalability. We're able to offer what no one else has before—a better, faster, easier and fundamentally proven managed file transfer solution that does not require extended services engagements to make it work. Enterprise pilot customers from major global healthcare/pharmaceutical, financial and manufacturing companies have already shared that "secureXchange 4.0 is what managed file transfer should be."
About bTrade
bTrade develops managed file transfer technology solutions for enterprises that share sensitive data across applications and organizations, and face complex security and compliance mandates. Thousands of customers depend on bTrade solutions to gain control and oversight of the movement of critical corporate data to facilitate data growth, reduce security risk, and improve IT and business efficiency. bTrade was founded in 1990 and is led by eBusiness visionaries who have delivered industry-leading business integration solutions to thousands of enterprise customers worldwide. bTrade is privately held and profitable with its global headquarters located in Glendale, CA USA.
For more information on bTrade's solutions and services, please visit bTrade.com.