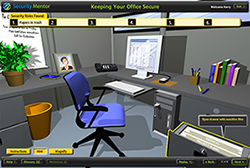 It was not only informative, but fun! A rare combination!
Pacific Grove, California (PRWEB) February 27, 2013
Security Mentor, creator of innovative information security awareness training, is demonstrating their best-in-class online training at the RSA Conference 2013 Expo, taking place in San Francisco, California from February 25 to 28. Security Mentor, the first company to offer brief, interactive and engaging security awareness training, continues to lead the industry with a comprehensive training program that teaches employees to recognize security threats and to know how to avoid them.
Employee awareness is recognized as one of today's top security vulnerabilities. Yet many employees simply don't understand security, leading them to inadvertently take risks with sensitive information and intellectual property, or fall victim to phishing attacks or hackers. Traditional security awareness training often fails to address employee awareness vulnerabilities because trainees don't like the training, don't understand it, or don't retain the information. Security Mentor's solution is to make training fun and effective. Rich media, Flash-based lessons are designed to capture interest and be memorable, while interactive lessons promote learning by doing. And Security Mentor's flexible architecture enables customers to select the best delivery channel for their needs, be that using Security Mentor's hosted service with username/password authentication or single sign-on (SSO), or using Security Mentor's SCORM-compliant modules in their own internal learning management system (LMS).
Security Mentor's program trains employees in the most critical security awareness topics quickly, economically, and effectively. Lessons encompass topics like phishing, mobile security, office security, social networking, passwords, information protection and web security. Lessons are tracked and reported, so managers can easily view trainee lesson completion status.
Recognizing the demands on employees' time as well as the fact that users learn best in small bites of information, Security Mentor pioneered the model of brief, frequent and focused training. Lessons are only ten minutes long, are taken once a month, and cover a single security topic. This training model, combined with Security Mentor's robust security content and world-class instructional design and e-learning techniques, results in truly effective security training that employees love to take.
Live demonstrations will be ongoing at Booth #750 throughout the RSA Expo. Attendees are invited to stop by for a personal interactive demonstration.
About Security Mentor
Security Mentor provides best-in-class information security awareness training, designed for how people learn and work. Founded in 2007, the company is recognized for its high quality training, which combines robust security content with an easy-to-understand, engaging format that employees love. Security Mentor's training is used and proven worldwide in leading financial, technology, energy, manufacturing, service, and government organizations. See Security Mentor's training in action with our two-minute security awareness intro video or get a demo at https://www.securitymentor.com/security-awareness-training/request-demo.