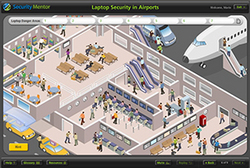 We analyzed the top security issues facing enterprises today and identified 12 need-to-know topics
Pacific Grove, CA (PRWEB) April 14, 2009
Security Mentor®, Inc, a pioneer in online security awareness training, will announce a new core curriculum at the 2009 RSA Conference in San Francisco April 20-24.
Security Mentor Core is designed to train employees in the most critical security awareness skills quickly, economically and effectively. Like the full Security Mentor curriculum of 48 lessons (Security Mentor Comprehensive), Core follows Security Mentor's innovative training model of brief, frequent and focused online lessons. Each lesson takes full advantage of rich media to ensure maximum impact and is instructionally designed to be effective and memorable. Each trainee's progress is tracked for measurable results.
12 Critical Security Topics, 1 Core Package:
"We analyzed the top security issues facing enterprises today and identified 12 need-to-know topics," said Marie White, Ph.D., a Security Mentor founder and defense industry security veteran. "We can now offer these courses as a package. Security Mentor Core meets customers' most pressing needs at an economical price."
Topics covered by Security Mentor Core include: Email Security, Web Security, Mobile Security, Passwords, Social Networking, Office Security, Reporting Incidents and more.
Security Awareness in your Inbox:
A curriculum of brief, interactive, rich media lessons are delivered through Security Mentor's website. Employees no longer have to remember to take training; they receive a weekly email linking them to the latest lesson.
Because lessons are short and frequent, Security Mentor security awareness training keeps security at forefront of employees' minds, supporting the development of a culture of security.
Each lesson focuses on one specific subject, which allows employees to master the material in less than 7 minutes. The interactive multimedia content is engaging for all users, supporting different learning styles. A learning management system tracks and measures each person's progress through the lesson. That allows managers to know that employees have received the information - and learned it.
Key Attributes of Security Mentor Training

Brief. Lessons last about 7 minutes, both fitting in with busy work schedules and complimentary to how people best learn.
Frequent. Security Mentor Comprehensive is delivered weekly and Security Mentor Core every other week.
Focused. Only one topic is presented per lesson. Employees can more easily remember and apply security topics.
Engaging. Rich, interactive media captures employees' attention and supports different learning styles.
In Depth. Each topic is covered in greater detail, enabling employees to better understand complex issues.
Flexible. Web-based training can be accessed when and where most convenient for employees and employers, increasing participation and reducing costs. The impact of employee turnover on security is reduced: new hires can begin the training at any time.
Relevant. Content developed by Certified Information Systems Security Professionals focuses on security relevant to the workplace.
Memorable. Instructionally designed lessons increase retention through the use of real-world situations, problem-solving, and serious games.
Measurable. The learning management system keeps track of each employee's progress through the training and generates reports for management.
Complementary. Security Mentor training reinforces internal and commercial security awareness training programs by reinforcing key security messages.
Security Mentor, Inc. at RSA® Conference 2009:
Security Mentor, Inc. will demonstrate lessons from Security Mentor Security Core and Comprehensive at booth 443 on the RSA® Conference Expo floor. The RSA Expo runs from April 20 - 24 at San Francisco's Moscone Center.
About Security Mentor, Inc.:
Security Mentor, Inc. is a provider of online security awareness training. Security Mentor's innovative approach of short, frequent, focused training reduces security risks by helping employees become Aware, Alert, Secure®. Aware - know the security risks. Alert - think before acting. Secure - make the right choice. Security Mentor, Inc. was founded in 2007 by veteran security professionals and Department of Defense contractors. For more information please visit http://www.securitymentor.com .
###