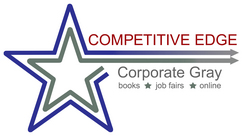 Corporate Gray has always done a great job for my needs.
Fairfax Station, VA (Vocus) July 20, 2010
The job market for employees with security clearances and military experience is strong based on recent military-friendly job fairs in the Washington, DC and Norfolk-Virginia Beach markets.
Corporate Gray and Military Officers Association of America co-sponsored job fairs in June and July that brought together 75 employers and 800 job seekers. The MOAA/Corporate Gray Job Fairs focus on people with military experience, most of whom hold Department of Defense security clearances, including many with a Top Secret clearance and polygraph.
"On a scale of 1 (low) to 5 (high), the candidate fit was a 5," indicated a Lockheed Martin recruiter. Some of the companies surveyed reported meeting more than 100 candidates appropriate for their openings. Follow-up interviews for more than 200 candidates were scheduled before the events ended and many others will be set up once the resumes are circulated to hiring managers.
Defense contractors like Lockheed Martin, Booz Allen Hamilton, Raytheon, L-3 Communications, MPRI, SAIC, and General Dynamics are not the only employers that want to hire people with military experience. Participating employers from outside the defense industry included Cox Communications, Time Warner Cable, Verizon Business, Miele, and Passport Auto. "The men and women leaving the Armed Forces have a variety of skills, many of which are directly transferable to the civilian work world," according to Carl Savino of Corporate Gray.
Many government agencies also participate in MOAA/Corporate Gray Job Fairs, including the Federal Bureau of Investigation (FBI), Central Intelligence Agency (CIA), Defense Intelligence Agency (DIA), National Security Agency (NSA), National Geospatial-Intelligence Agency (NGA), Defense Contract Audit Agency, Defense Energy Support Center, Department of State, and Department of Justice.
Most of the employer representatives collected resumes from candidates at the job fair, but since time did not allow them to meet every job seeker face-to-face, all of the resumes collected by the co-sponsors are available to the recruiters on Corporate Gray Online. This database also permits the companies to post their job openings.
While some people do not attend local job fairs because they are planning to move when they leave the service, 50% of the companies surveyed also had openings outside of the local area. A division of Time Inc. was looking to fill positions in more than 20 markets across the country. A recruiter from Booz Allen Hamilton, which has employees on six continents, indicated "Corporate Gray has always done a great job for my needs."
Corporate Gray, based in Fairfax Station, Virginia, links employers with transitioning military members through its books, job fairs, and online services. The company publishes 'The Military To Civilian Transition Guide,' 'From Army Green to Corporate Gray,' and other career transition books. It has provided more than 3 million free copies to transitioning military members since 1997. The Corporate Gray Job Fairs have been held in Virginia, Maryland, Florida, Texas, Arizona, North Carolina, California, Washington, and Germany. Corporate Gray Online enables job seekers with military experience to post resumes and search for jobs. More information is available at http://www.CorporateGray.com.
###