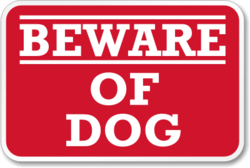 The presence of a dog is known to deter burglars, posting signs warning possible intruders is a good tip to make homes less susceptible to break-in's.
Indianapolis, Indiana (PRWEB) June 20, 2013
Home security is a serious matter, and while many people recognize the benefits of home security for the human residents of a home, the pets may be forgotten. If a home burglary or break-in occurs, pets are at a real risk for injury, as well, so when creating home security plans and provisions, it's important to consider the four-legged family members, as well.
The home security professionals at SecuritySystemReviews.com, a site offering answers to questions about home security, put together a list of tips to ensure that both humans and pets are protected.
SecuritySystemReviews.com is a site that allows users to compare security systems and read reviews of the best systems, including FrontPoint reviews and Vivint reviews.
1. For any resident, the first step of assessing home security needs is to look at the crime rates in their particular area. If a resident lives in a quiet, rural area, a less complex security system is likely going to be needed than for a resident who lives in a big, bustling city with a high rate of crime. Plan a security system accordingly, based on crime statistics.
2. Let a potential burglar know that a dog is present. Many homeowners opt to post Beware of Dog signs or put food and water bowls near windows where they can easily be seen by a potential burglar. Even if a dog is not likely to attack an intruder, the presence of a pet is likely to deter a burglar because a burglar isn't sure of how a pet will react. Additionally, many burglars like to avoid situations that are loud or draw attention to their crime, and a dog's barking is going to draw more attention to the scenario.
3. Don't ignore the potential for a burglar to squeeze through a doggy door. For many pet owners, a doggy door is a necessity, because it allows a beloved pet to enjoy freedom to go outdoors throughout the day, but many people don't realize that it is possible for some burglars to fit through doggy doors. It may be a good idea to invest in an electronic doggy door. Many of the most high-tech doggy doors available open when triggered by an approaching pet wearing a specific collar. They are expensive, but can offer peace of mind, which for many pet owners is something that doesn't have a price tag.
About SecuritySystemReviews.com
SecuritySystemReviews.com is a website providing reviews and rankings of the top home security companies in the country. Additionally, the site provides news, industry updates and home security tips, making it the premier resource for consumers considering the purchase of a home security or alarm system.